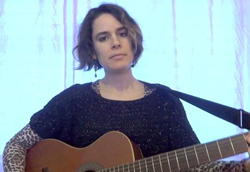 (PRWEB) March 27, 2014
Maria starts off this easy acoustic guitar lesson by explaining what chords are used in the song, which are A, A7, D, and E. "The strumming style is really classic rock," says Lua, she demonstrates the strumming as down, up, down, up, down, up (one, two, three, and, four, and). Maria continues this easy guitar lesson by playing the whole song so you can easily play along with her and get the rhythm and timing down. Guitar chord charts and guitar TAB's are available for this acoustic guitar lesson at SongTabs.com.
Rockabilly is one of the oldest styles of Rock and Roll music dating back to the 1950's. It is a blend of the styles of Folk, Country and Bluegrass with Rhythm and Blues (R & B). The style was pioneered by artists such as Elvis Presley, Jerry Lee Lewis and Carl Perkins who paved the way to later artists such as The Stray Cats.
Elvis Aaron Presley was an American singer, musician and actor from Tupelo Mississippi. Often referred to as the "King of Rock and Roll", is considered one of the most significant cultural icons of the 20th century. Over the duration of Presley's career he recorded over 600 songs, had 20 number one albums and 41 number one songs. Elvis also appeared in 33 movies. On August 16th 1977 Elvis was found unresponsive on the bathroom floor of his home and officially pronounced dead later that day in Baptist Memorial Hospital.
Maria Lua
Is a folk inspired singer, songwriter, musician and performer, using melody and lyrics to uplift and motivate her audience. At the end of 2012 Maria and her band descended on professional recording studio Shrunken Heads Studios to record 4 songs for her upcoming E.P. "Free Spirit".
About SongTabs.com
SongTabs.com is a great online resource for learning to easily play your favorite songs on the guitar. With several great instructors and a constant growing catalog of songs, everyone can learn to play there favorite songs.