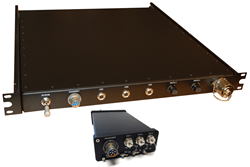 Pohang, Republic of Korea (PRWEB) April 02, 2014
US Marines from III MEF joined with ROK Marines in South Korea for MEFEX 2014, an exercise which focuses on interoperability of US Navy and Marine Corps Forces with ROK. Trident's Secure Communications Controller (SCC) was used by US and ROK Marines to bridge communications between ROK and US radios.
News: Secured communications controller bridges gap between nations
The SCC supports communications cross-connect of disparate audio and data links including Tactical Radios, Land Mobile Radios (LMR), (HF, UHF, VHF), SATCOM, public safety radios, coalition radios, VoIP, cellular networks, and wired/wireless networks. A key feature of the SCC is its ability to cross-link disparate radios, regardless of radio type, half or full-duplex operation, encryption key or frequency hopset. Multiple independent radio networks can be seamlessly cross-linked and, at the same time, maintain their own unique parameters (e.g. encryption, frequency).
News: ROK, US Marines test interoperable communication equipment
Trident supported the exercises using two variants of the SCC; a 1U rack-mounted MIL-STD-1275 unit for simultaneous data and audio cross-connect, and a man-portable Mini-SCC unit which supports audio cross-connect of multiple dissimilar radio networks.
"We're proud of our role in MEFEX 2014 and look forward to ensuring the US and ROK Marines have effective and seamless communications interoperability," says James O'Looney, Director of Integrated C4I Systems. "These events are key to exercising combined capabilities and ensuring our mutual preparedness."
About Trident
Trident Systems is a veteran-owned small business that delivers innovative and affordable technology solutions for critical government and commercial needs. Founded in 1985, Trident continues to harness technology and provide leading-edge solutions to every Military Service, the Intelligence Community, and a broad spectrum of government and industry partners. Trident develops products in three primary focus areas: Integrated C4I systems, Radar Systems, and Assured Collaboration Systems. Trident also provides an array of services from Complex Systems Engineering services for complex system development as well as Collaboration Services, providing a full range of design / build services for state of the art facilities including supporting of the Integrated Air Defense System in the National Capital Region. Trident has offices in Fairfax, Virginia (HQ), and Raleigh, North Carolina. For more information, visit http://www.tridsys.com/.