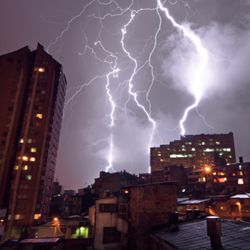 Dallas, TX (PRWEB) March 27, 2014
KPOST Company, industry-leading commercial roofing company in Dallas, has released a checklist and information on commercial roofing weather preparedness on their website. This spring North Texas is expected to have more rain than normal, while the rest of Texas will continue in drought conditions. After several hard freezes and two winter storms, North Texas commercial roofs are in desperate need of maintenance before storms hit. Commercial roofing experts, KPOST Company, have provided vital information on preparing for seasonal changes.
In a recent article – Commercial Roofing Needs Spring Cleaning, Too! - Tracey Donels, KPOST Company Service Manager recommends getting inspections before costly problems arise.
"Think of it like performing maintenance on your vehicle before a road trip. You don't wait until you are on the trip to perform the maintenance. You do it in advance of the long drive. The same is true of roof inspections between major seasonal changes, particularly before the April rainy season."
The expansion and contraction of roofing materials during radical temperature fluctuation, like the ones North Texas has seen this year, are damaging to roof and building envelopes. Damage includes gaps, splits, holes, and flashings that could require costly repairs if not detected in time.
"Now is the time to be proactive since we have been through a heat cycle and freeze cycle. Whatever impact the weather has had on the roof should be quite obvious, allowing for identification of any suspect issues prior to their exposure by a heavy rain," said Scott Bredehoeft, KPOST Director of Business Development.
KPOST has provided checklists and information on weather preparedness and will continue to deliver industry-focused material via the Latest News section of their new website.
About KPOST Company
KPOST Company, Dallas commercial roofing experts, is an industry-leading commercial roofing and waterproofing, contractor whose core values are SAFETY, QUALITY, and VALUE. KPOST's services include commercial roofing (both new construction and roof replacement), waterproofing, specialty installations, repair & maintenance and lightweight insulating concrete. Over the past 10 years, KPOST has completed over $250 million in roofing/waterproofing construction including high profile contracts such as the AT&T Stadium, the Perot Museum of Science and Nature, the Omni Dallas Convention Center Hotel, and the Container Store Headquarters and Distribution Center. For more information visit the website at http://kpostcompany.com.
Press Contact:
Renae Bales
KPOST Company
972-910-8777
Jeff Brady
Brady Media Group
jeff(at)bradymediagroup(dot)com