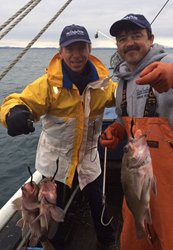 In their review of Duke's Chowder House, Fish2Fork states, "There can be few restaurants which take quite so much trouble to check out the sustainability of their seafood."
Seattle, Washington (PRWEB) March 31, 2014
Seattle seafood restaurant, Duke's Chowder House, is proud to announce that its founder and owner Duke Moscrip will be traveling to Kodiak, Alaska on Monday, March 31 to supervise his rockfish catch. Duke will join several fishermen who will catch rockfish for Duke's Chowder House this year. Duke's will be purchasing pristine line-caught rockfish that will be the highest grade available. Seventy year old, Portland-based Pacific Seafood, a seafood processing company and one of the biggest names in the industry, is hosting Moscrip's adventure. Known for developing technologies that enhance their products and reduce the impact on the environment, Pacific Seafood ensures the safety of its fish by tracking every single fish from where it is caught to where it is purchased and it is this commitment that Moscrip counts on.
"The standards for fresh seafood served at restaurants across the country vary widely. The bar for sustainability, flavor, and great taste at award-winning Duke's Chowder House has been raised and is beyond what most guests understand or expect," says Moscrip.
"The truth is that most fresh fish served in other restaurants is days old -- perhaps as many as 25 days old. It can technically be called fresh because it has never been frozen, but the taste and flavor tell a different story. At Duke's, taste and flavor are standards we refuse to compromise, and that is no fish story," says Moscrip.
Since 1999, Moscrip has been traveling to Alaska, boarding the vessels responsible for his catch, and taking personal responsibility for bringing back the highest standards of fresh tasting seafood direct from the source. What started out as an adventure turned into more of a scientific experiment to study how to maintain wild Alaska salmon and halibut year-round in his six restaurants that tasted and literally was "better than fresh."
Moscrip discovered the best method for handling his fish. Each fish was to be bled immediately after capture to prevent bacteria from affecting the flavor of the fish.
Further, the fish were to be ice-chilled and maintained at a strict temperature of below 34 degrees Fahrenheit in order to maintain the freshness. Each fish transported for processing and separately vacuum packed to maintain the highest standards for freshness.
"Every day, guests can visit Duke's Chowder House with the confidence that I have personally supervised the process of getting the catch from source to table. There are few, if any, restaurant owners anywhere who can say that. That is a point of great pride for me, our team, and our loyal and appreciative guests," Moscrip says.
Moscrip's impeccable quality standards in service to guests are recognized with the highest rating ever for fresh, delicious, and sustainable seafood on record by Fish2Fork, an international sustainable rating non-profit. Duke's Chowder House is officially the #1 rated restaurant in the State of Washington according to Fish2Fork.
Fish2Fork ratings are based on the quality of the food that is served in the restaurants and the effect that they are having on sea and marine life. Fish2Fork judges the seafood restaurants on whether they are doing all they can to serve sustainable seafood and to reduce impact on oceans. The rating process and questionnaires involve analyzing the sourcing policies and scoring the restaurant for the sustainability of the seafood featured on their menu.
In their review of Duke's Chowder House, Fish2Fork states, "There can be few restaurants which take quite so much trouble to check out the sustainability of their seafood. Owner Duke Moscrip and executive chef Bill Ranniger travel to see where their fish are caught. They are knowledgeable, enthusiastic and evangelical about seafood sustainability."
About Duke's Chowder House
Dedicated to bringing its customers the best every day, Dukes Chowder House operates six restaurants throughout the Puget Sound region and boasts membership of 156,000 in its popular email club. Since 1999, Founder and Owner Duke Moscrip - together with his son and partner John Moscrip - continue their passionate journey to source all natural, healthy and fresh ingredients. Duke's food is free of hormones, antibiotics and free of harmful chemicals. In 1999, Moscrip pioneered the concept of "ice chilled, better than fresh." Duke's is an upscale casual Pacific NW seafood concept offering signature, flavorful, 100% sustainable wild seafood, Award Winning Chowder and grass fed burgers in a gathering place that is friendly, comfortable, unpretentious and filled with personality. Guests sum up their favorable assessment of what Duke's Chowder House has to offer with three words: "It's so good!" Learn more and join the email club at Duke's Chowder House email club.
Contact:
Nancy Juetten
nancy(at)authenticvisibility(dot)com
425-641-5214