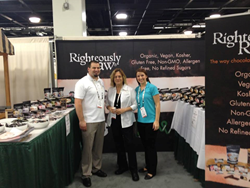 We have received amazing feedback with our new design and the new flavors..Our success with the individual serving line has really been no less than phenomenal
San Diego, CA (PRWEB) March 31, 2014
Natural Products Expo West 2014, the leading trade show for the natural, organic, and healthy products industry, posted record attendance numbers earlier this month at the Anaheim Convention Center in California. Earth Source Organics (ESO) was among those companies that came to showcase their products, connect with clients and potential new customers, and discover emerging trends in the global natural products industry.
ESO also used the occasion to debut their newly designed labels and packaging, and event attendees were thrilled. Receiving an avalanche of positive responses, Righteously Raw Chocolates became a part of many new customers' product lines. In addition, the new gourmet look attracted the attention of many notable grocery chains, who took the opportunity to learn more about the organic, raw traits of ESO's Righteously Raw chocolate product line and how those might be included in their own stores' offerings.
The recently expanded individual serving options, however, stole the show. The introduction of individually wrapped chocolate dipped macaroons as well as the popular lineup of bite-sized chocolates proved to be ESO's largest success. Not only were they a hit at the show, ESO's customers also watched these popular, handily wrapped chocolates fly off their shelves. Dan England, the company's Director of Sales and Purchasing, enthused, "We have received amazing feedback with our new design and the new flavors. A large handful of customers that brought in the new products have already placed reorders. Our success with the individual serving line has really been no less than phenomenal."
From customers who have been there since the beginning to brand new accounts, and from loyal specialty stores to large grocery chains just beginning their expansion of natural health food products, Earth Source Organics and their Righteously Raw chocolates are loved by all, and the company continues to see their message of happy, healthy living spread with each bite.
More About Righteously Raw Chocolates:
Righteously Raw is the gourmet chocolate brand of the certified organic food manufacturing company Earth Source Organics. Based in Southern California, this company is on a mission to provide organic and delicious foods to its customers to help them lead happy, healthy lives. For more information and to find Righteously Raw Chocolates near you, please visit http://www.righteouslyrawchocolate.com.
To learn more about Earth Source Organics' success at Natural Products Expo West 2014, please contact Audrey Darrow at (760) 734-1867 or info(at)earthsourceorganics(dot)com.