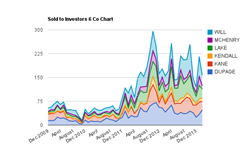 Almost every county saw a decrease in sales in February, but when compared to the same time last year – or even just the month of December – their numbers showed progress.
Chicago, IL (PRWEB) March 31, 2014
Auction statistics say a lot about the foreclosure marketplace in the Chicago area and the Illinois Foreclosure Listing Service has compiled statistics for each of the 7 Chicagoland Counties for February 2014. The combined total of these 7 counties resulted in a 19.64 percent decrease from January's numbers at the auctions.
Cook County decreased by 12.33 percent this month in terms of properties sold to investors, but it did better than this time last year. In 2013, Cook County sold 171 properties at auction and this year that number increased to 199 properties sold. So, although there was a drop from January's high numbers, Cook County is still doing better than in 2013 when using an annual measuring stick instead of a monthly one. This story is repeated throughout most of the separate counties; almost every county saw a decrease in sales in February, but when compared to the same time last year – or even just the month of December – their numbers showed progress.
Dupage County was the exception to this trend in February. Dupage was able to increase sales numbers by 41.28 percent from January to February 2014, in addition to decreasing the number of new foreclosures entering the market by 17.24 percent. When stacked against February 2013, Dupage has decreased their new foreclosures by 51.59 percent, which is more than any other of the 7 counties. The combined power of fewer new foreclosures and more properties sold at the auction could mean that Dupage is shedding some of the older, stockpiled properties as well as the newer foreclosures.
Will County has been experiencing some interesting trends, as well. It has been all over the map in terms of both sales and new foreclosures, but in February it seemed to be falling further apart. With a 23.27 percent increase in new foreclosures from January and a 46.03 percent decrease in Will County auction sales the county could be in trouble. All of the other counties, when set against the statistics of February 2013 compare favorably, and so does Will. However, it saw only meager progress, increasing by only 3.03 percent from February 2013's numbers. Still, Will County has been known to fluctuate pretty significantly from month to month and it's possible that March numbers will help resuscitate the ailing county.
Already in March it looks like Will Count is picking up its pace slightly and investors are finding good deals. One such deal was a beautiful 3bdrm/2.5 bath home sold in Plainfield just last week for 59 percent less than its Zillow estimated price of $177,429. The starting bid was $132,600 and it sold immediately for just one dollar over the bid. Even better news for both Will County and the real estate market is that, according to Zillow, home values in Plainfield are set to increase by 2 percent over the next year.
Though February appears to be a lackluster month in Chicago foreclosures, the actual number of auctioned off properties was positive when compared with February of 2013. As March draws to an end, there will soon be more information on the first quarter for Chicagoland foreclosures.