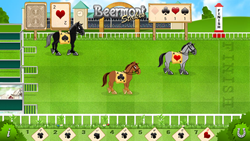 (PRWEB) March 28, 2014
A new mobile app for iPhone, iPad, and Android devices combines horse racing, cards, and drinking into an animated game of chance. The outcome of a simulated race determines the number of drinks that get passed out upon completion. The app, called Beermont Stakes, is available now on the iTunes App Store and Google Play.
Any number of people can play Beermont Stakes on a single phone or tablet. Players or teams enter their names next to their chosen card suit: diamond, heart, club, or spade. Each then sets a bet between 1 and 24.
An initial deal sets cards next to seven markers alongside the racetrack. The number of cards displayed for each suit multiplies that player's or team's bet. Then, cards are dealt one at a time to determine which horse gets to advance. The first horse to reach the seventh marker wins. The amount of the bet is then translated into the number of drinks to be handed out for all players to consume.
During the course of the race, the progress of each horse is narrated in the style of trackside commentators. Wins are celebrated with a burst of confetti and a roaring crowd.
The animation makes use of detailed 2D graphics for the horses, cards, track, scoreboard, and crowd. The game's playful attitude encourages friendly competition and camaraderie.
"It's long been my favorite drinking game and I thought it would be fun to make it into an app," said Matt Cestone, the creator of the app.
Beermont Stakes is priced at $0.99 in the iTunes App Store and Google Play.
About the Developer
Zco Corporation, founded in 1989 and headquartered in Nashua, NH, is one of the largest mobile application developers in the world. Zco has experience creating custom mobile applications, enterprise applications, 3D animation, 3D games, and augmented reality on various platforms like iOS, Android, Windows Phone, BlackBerry, Symbian, and HTML5. As an expert in the industry, Zco strives to be on the forefront of mobile app development and creating custom applications for its clients. Learn more at http://www.zco.com.