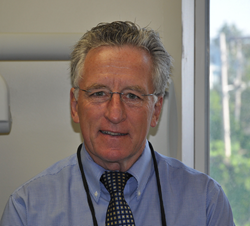 Braintree, MA (PRWEB) March 27, 2014
For National Nutrition Month in March, Dr. Thomas Mone instructs his patients on the link between oral health and a good diet. Mone Periodontics provides outstanding gum disease treatment for patients who are suffering from gum disease. Along with improving eating habits, Dr. Mone explains how treating gum disease can reduce health risks and contribute directly to better overall health and longevity.
Many recent studies support the conclusion that getting timely and effective gum disease treatment decreases the risks of certain cancers and heart disease, as well as limiting some complications with diabetes. Eliminating gum disease can increase memory and cognitive functioning. With the many positive benefits of treating gum disease, and with the advanced techniques available at Mone Periodontics, the time is ideal to make the next step in improving oral health. Consult with Dr. Mone to discover how to prevent and treat gum disease.
Many advanced methods of gum disease treatment available at Mone Periodontics utilize minimally invasive methods to treat gum disease in as little as one visit. Using lasers, among other revolutionary techniques, Dr. Mone can start treating gum disease at your first visit and have you celebrating National Nutrition Month with a healthy mouth and a healthy diet.
Learn more about how gum disease treatment, along with improvements in diet and lifestyle, can contribute to a healthy new life in 2014 and beyond. Contact Mone Periodontics at (781) 348-9925 to learn more details about the modern methods of treating gum disease. Visit the office's website at http://www.braintreeperio.com to learn about all the dental services available for improved oral health at Mone Periodontics.
About the Doctor
Mone Periodontics is a periodontal practice offering personalized dental care for patients in Braintree, MA. The leading periodontist at the practice, Dr. Thomas Mone, graduated from the University of Massachusetts with a bachelor's degree, and then went on to attend the University Of Pennsylvania School Of Dental Medicine and graduated at the top of his class. He completed his periodontal training at Boston University Goldman School of Graduate Dentistry. Dr. Mone is part of one percent of dental professionals providing the LANAP® FDA cleared laser procedure for gum disease and periodontal treatment. To learn more about Mone Periodontics and their dental services visit their website at http://www.braintreeperio.com and call (781) 348-9925.