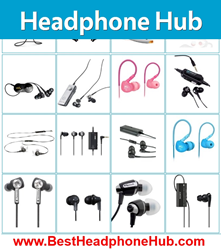 Low-quality Noise Cancelling Earbuds Can Give an Irritating Humming Sound
Los Angeles, CA (PRWEB) March 28, 2014
Noise cancellation circuitry, the machinery used to cancel out background noises, is so complex that active noise cancellation was a luxury only available with large around-the-ear headphones. That was many years ago. Today, over a dozen models of noise cancelling earbuds exist, however only a few of them cancel out over 60% of the external noises. This review of the 10 BEST Noise Cancelling Earbuds is a much recommended resource for anyone looking to buy NC earphones because their ranking is based on several important criteria.
http://BestHeadphoneHub.com/Best-Noise-Cancelling-Earbuds/ classifies the various noise cancelling earphones in to 3 categories as (A) professional grade, (B) budget-friendly, and (C) Bluetooth noise cancelling earbuds. While the budget friendly ones are as cheap as $6, the professional grade pairs can be as expensive as $300. The top 10 pairs come from popular brands like Bose, Audio Technica, Klipsch, Sony, Panasonic, MEElectronics, and Phiaton.
They use a set of pre-defined criteria to identify the better noise cancellation earbuds from the rest. The degree of noise cancellation is one of the most important criteria. The best ACTIVE noise cancelling earbuds can block out up to 90% of distracting background noises. In contrast, especially with some PASSIVE noise isolating earbuds, less than 50% of the background noises are blocked. A second criterion they use is audio quality. Unlike with regular headphones, the audio coming out of active noise cancelling headphones can be slightly distorted. The majority of users will not notice this, but especially with low-quality pairs, there can be a very slight 'humming' or 'mechanical quality' to the sounds generated. It's important to buy a pair that produces minimal or no humming. Another criterion they consider is the availability of a built-in microphone. A lot of people nowadays don't use a separate MP3 player (e.g. Apple iPod) to listen to music. Instead, they use their smartphone loaded with MP3s. If the earbuds don't come with a mic, answering/making a phone call while listening to music can be difficult. This is why a lot of headphone users nowadays prefer ones that have built-in microphones. In addition to the above criteria, they also compare other, relatively minor criteria like battery life, talk/audio playback time, standby time, charging time, customizable "non-slip" fit etc.
In addition to the above relatively basic specs, they also give a lot of emphasis to earbuds with the 'aware mode'. When wearing a pair of noise cancelling earphones, one does not hear at all, or hears very little of the outside noises. Should he or she want to listen to somebody talking to him/her, the earbuds will have to be taken off. The inconvenience that comes with taking off the headphones can be avoided with the 'aware mode'. With the 'aware mode', as they refer to with the Bose QuietComfort 20 Acoustic Noise Cancelling Earbuds, pressing a simple button turns a mic on that conveys all the background sounds to the user without having to turn the music off or take the earphones out. On the Sony MDRNC13 Noise-Canceling Earphones, this feature is known as the 'monitor switch' instead of the aware mode. Not all noise cancelling models have this very useful feature.
They also emphasize on another feature that most high-end NC earbuds have nowadays. Active noise cancelling earphones utilize a battery to cancel out external noises like those produced by air planes, commuter trains and buses. With some models, once this battery runs out, the earphones cannot be used at all. But with some of the newer models, the user can continue to listen to music without noise cancellation in effect. This is a popular feature because it lets the user listen to music until he or she gets their hands on a new battery. The Phiaton PS 210 BTNC Bluetooth Noise Cancelling Earphones has this feature.
In addition to reviewing the best noise cancelling earbuds, they also review the best around-the-ear (circum-aural) noise cancelling headsets. These include popular brands like PSB M4U 2, Bose® QuietComfort®, Harman Kardon, Sennheiser MM 450 and Parrot Zik Touch-Activated Active Noise Cancelling Bluetooth Headphones.