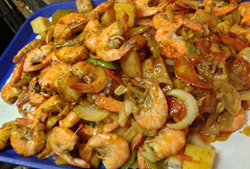 "San Pedro has so many great groups doing incredible work...," said Ungaro. "We have been blessed with a business that has given us a 3,000 seat facility so we are committed to putting it to regular use for the community."
San Pedro, CA (PRWEB) March 31, 2014
Known throughout the Los Angeles Harbor area for helping generations of San Pedro women and families from its landmark Julia Morgan designed building and other facilities, the YWCA of the Harbor Area had one of its most successful fundraisers in its history on March 13, 2014.
"We were honored to host 150 donors for the YWCA Harbor area because this group has done groundbreaking work for generations," said Mike Ungaro, San Pedro Fish Market Vice-President. "YWCA constitutes the 35th separate group that we have helped
in the last two years to help make the Harbor area and San Pedro a better place to live."
Believing that communities are built by people willing to dig in and solve everyday problems, San Pedro Fish Market & Restaurant has helped 35 different charities and groups in the last two years.
"San Pedro is our home, it is where we went to school, and where our business has been for over six decades," explained Mike Ungaro, Vice President, San Pedro Fish Market. "We've never been people to just give money, we would rather be a gathering spot for leaders to raise even more resources and really get to solving challenges that face Southern California."
Ranging from area schools and churches, to the YWCA, Boys & Girls Club of the Harbor Area, and many others, San Pedro Fish Market & Restaurant often offers its banquet areas and other parts of its waterside facility, along with food to area groups for events.
The support has been key to many of the groups expanding and completing their mission of improving life in the Harbor area and San Pedro specifically.
"Each year we do more and more as the growth of our business allows," said Ungaro. "It is a great motivator to continue to innovate and work hard to produce five star dining experiences so that the families that have made us a part of their lives come back, AND, we can use that talent to benefit those in need as well."
For more on the YWCA Harbor Area please go to http://www.ywcaharbor.org/
ABOUT SAN PEDRO FISH MARKET & RESTAURANT
Founded in 1957, San Pedro Fish Market & Restaurant has grown into a top rated destination on the LA waterfront whose seafood, Lonely Planet described by saying, "Seafood feasts don't get any more decadent than at this family-run harbor-view institution." Routinely serving more than 19,000 diners each week at its 3,000 seat facility, San Pedro Fish Market is also one of the most recognized brands in the frozen food section of more than 750 premium and mass market supermarkets across the Southwest and Hawaii where consumers can pick from four microwavable versions of our world famous shrimp tray. Just as at the restaurant and market, all ingredients are the freshest available and meant to be prepared and enjoyed directly in the kitchen with your favorite ice cold beverage. For more information, go to our website at http://ow.ly/obvmS.
The charities assisted by San Pedro Fish Market & Restaurant in the last two years include by are not limited to:
YWCA Harbor Area
Boys & Girls Club of Los Angeles Harbor Area
Cabrillo Beach Boosters
Light at the Lighthouse
ASO COED Softball
Auxiliary of the Little Sisters of the Poor
Avon Walk for Breast Cancer
Beacon House
City of Carson Parks & Recreation
Dalmatian American Club
Bloody Thursday Softball Association
CALI Girls Soccer Team
Conquer the Bridge
Eastview Little League
Festa In Onore Di S. Antonio Di Padova
Grand Vision Foundation
Hawthorne Police Department
Holy Trinity School
Mary Star of the Sea Catholic Church & High School
Mentoring Men to Lead
Port of Los Angeles High School
Providence Little Company of Mary Medical Center San Pedro Scholarship Funds
S.S. Lane Victory - U.S. Merchant Marines Veterans WWII
San Pedro Chamber of Commerce
San Pedro Girls Softball Association
San Pedro High School Girls Soccer
San Pedro Peninsula Cancer Guild
San Pedro Pirates Boosters Club
San Pedro Wednesday Club
San Pedro Youth Coalition
Taper Avenue Elementary
Toberman Neighborhood Center Auxiliary
USC Throat Cancer Research