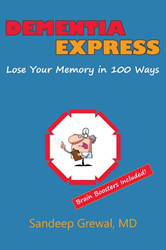 ...Incorporate east to do brain exercises in their daily lives...
Rock Hill, SC (PRWEB) March 28, 2014
Memory loss and symptoms of Dementia creep upon us surprisingly insidiously, that is why most people are incredibly unprepared for when it happens. But according to Dr. Sandeep Grewal, an Internal Medicine Physician and author of the book 'Dementia Express: Lose Your Memory in 100 Ways' even if one doesn't have time to do formal brain exercises, they can still decrease your chances of getting Dementia and keep their memory sharp simply by increasing brain engagement.
"The first thing people need to remember is that their intelligent brain is not to be taken for granted. The have to take steps to ensure it stays that way. ", said Dr. Grewal. "At the bare minimum at least one can do is to incorporate easy to do brain exercises in their daily lives. Something one can do while doing their usual chores during the day."
So this summer, five easy lifestyle brain exercises Dr. Grewal recommends to do:
Throw a pool party or a summer party: Preparing and coordinating a party is good brain exercise. Also meeting new people or socializing with old friends is a good way to exercise the brain.
Go to a beach where one has never been before: Traveling especially to new places is another way of brain exercise.
Pick up a new outdoor sports: The agility and coordination needed to learn a new sport will not only help one stay healthy and active but it will keep the brain working too. Physical exercise is known to prevent Dementia.
Gardening: It is not easy. Requires a lot of planning and physical work. And so the brain gets to work too.
Camping: It is fun to do and those little challenges one faces away from home can keep the juice flowing in the brain.
These are few of the tips Dr. Sandeep Grewal recommends. For more information, or to schedule an interview with Dr. Grewal please email it(at)acemedicalgroup(dot)org.
Dr. Sandeep Grewal practices Internal Medicine in small town of Rock Hill in South Carolina and is the author of brain health book 'Dementia Express: Lose Your Memory in 100 Ways'. He was awarded 2012 Innovation in Health Care award by Charlotte Business Journal and named 40 under 40 in 2013.