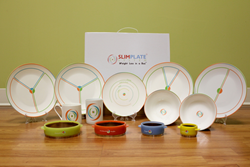 ...The most important thing to remember in reference to weight loss is portion control...
Rock Hill, SC (PRWEB) March 31, 2014
Every year millions of people try different ways to lose weight. Many are initially successful but then falll off the band wagon. Should the right diet be only about losing weight? What about keeping the lost weight off for good? With continuous fad-diets being questioned, how can one know if they choose the right diet?
"Diets should be easy to maintain for lifetime and hence provide lifetime results," says Dr. Nwe," a healthy weight loss does not involve gaining even more back after discontinuing the weight loss plan. The most important thing to remember in reference to weight loss is portion control." Portion control offers long term results by changing eating habits. With portion control, one can stay away from the deprived feeling because they get to eat the foods they love.
The SlimPlate System is a 4 month weight loss plan which includes 13-piece portion control weight loss method that involves plates, bowls, cups, and cutters to ensure effective weight loss. The SlimPlates are lined with colorful markings that display where to put the food of ones choice. The system allows you to eat five times a day to kick the metabolism into fast mode.
Ace Medical Weight Loss Center are also offering a new Online Weight Loss Program called "Shaping the Perfect You" and is completely free. The Online Weight Loss Program gives a step by step practical approach to weight loss from a weight loss doctor. It includes clear information oon how to lose weight effectively and easily by eating your own food. The program is given by practicing weight loss doctor. The online program registration is easy, all one has to do is register for it at http://www.slimplatesystem.com/register.
Dr. Sandeep Grewal and Dr. Myo Nwe are the founders of Ace Medical Group, the inventors of the SlimPlate System and its related mobile apps. Dr. Nwe is a diplomate of the American Board of Obesity Medicine and Internal Medicine. Dr. Grewal a diplomate of the American Board of International Medicine. He has been named one of Charlotte Business Journal's "Forty Under 40", received the magazine's 2012 "Innovation in Health Care" award and Vitals "Top 10 Doctor" 2013 award.