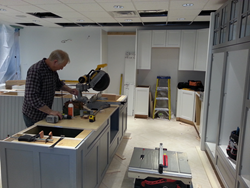 Stamford, CT (PRWEB) March 28, 2014
County TV and Appliance is undergoing major changes within their 5,500-square-foot showroom to further extend their customer service experience while staying ahead of the curve and truly embracing "The Smart Home" advancements in technology.
Recently back from the 2014 Consumer Electronics Show in Las Vegas, NV, Director of Sales & Marketing Phillip De Terlizzi said, "The show was unreal. I realized our vision for the future of our store validated our plans to drive continued success in delivering superior products and customer service." De Terlizzi continued, "Our vision is directly in-line with the future of technology and that's why we remain the experts in Smart Home solutions."
After the completion of "The Smart Home Store™", customers can expect interactive display units within the "Smart Home Experience Center." Customers will learn that they can control systems within the home, from anywhere. Additionally within this area are iPad-driven interactions, which will allow customers to test drive products and conduct comparisons between products and similar products, while County TV and Appliance will provide detailed information which the customer would be interested in knowing.
"It's all about customer service," said De Terlizzi. "Such an implementation of pro-active technology will foster and create a more personal experience. We think that allowing consumers to interact directly with products by way of technology differentiates us from the big-box retailers."
The technology and entertainment industries unveiled new partnerships to deliver high-definition content, which can benefit from the approved customer interaction format. The future of Smart Appliances, as shown by titans LG and Samsung, added a trend of letting people command and even exchange text messages with stoves, washing machines, vacuums and other household equipment for tending to the demands of daily life. Another new twist at the show came from makers of Internet-enabled door locks, which can be used in conjunction with Control4 solutions and other smart apps.
The major manufacturers of smart televisions announced technology which showed off the largest displays, including Ultra HD which features curved screens with interactive features.
"This is why we are choosing to use handheld devices to complete the experience for our customers," De Terlizzi said. "We learned a lot about 'Intuitive Computing'. Right now many devices only talk to their manufacturer's infrastructure and don't inter-operate with anything else. This will change as open standards are adopted."
Technology firms want to eventually get rid of the mice and touchpads. New computer and gaming hardware at the show was imbued with software that recognizes gesture, voice and even eye movements as people are freed to interact with devices naturally instead of having to click on icons or use touchscreens. "This all seems very 'George Jetson' but it is the future," De Terlizzi said. "We plan on staying ahead of the curve."
"Imagine a scenario, not too far away, where the washing machine, tumble dryer and dishwasher agree amongst themselves which gets to run first, after consulting the energy company via the central hub to get a good deal on the electricity they need. At that point, some degree of home automation will become standard and just taken for granted. But, we'll be at the forefront of these adaptive changes and technologies."
About the company:
For more than 60 years, County TV and Appliance has been providing customers of Stamford, CT and beyond with television and appliances from trusted brands. We understand the value of brands you can trust, and that is why we only carry the ones that matter the most. Make home a more comfortable place with the right items – come take a look at our showroom to find something that will best benefit it!
Appliances and electronics are always changing as technology continuously improves, but what will never change is our belief in treating our customers with courtesy, honesty, and providing services that can be counted on. Our sales staff is the best in the business with an average of 18 years of experience in selling appliances and electronics. They never stop learning and are skilled with adapting to the changes in technology, and are phenomenal in assisting customers with making the right decisions.
Appliances and electronic products you will find at County TV and Appliance include washing machines, air conditioners, vacuum cleaners, refrigerators, DVD players, LCD TVs, headphones, grills, coffee makers, panel controls, home theaters, wall mounts, Blu-ray players, fans, cables and so much more. We have all the items needed to make home a better place. More importantly, we sell the most energy-efficient appliances, for those who find importance in helping the environment!
County TV and Appliance is located at 2770 Summer St. in Stamford, CT. For more information on our products and services, you can give us a call at 203-327-2630. County TV and Appliance is open seven days a week; from 9 a.m. to 9 p.m. Monday, from 9 a.m. to 6 p.m. Tuesday through Wednesday, from 9 a.m. to 9 p.m. Thursday, from 9 a.m. to 6 p.m. Friday and Saturday, and from 11 a.m. to 5 p.m. Sunday.