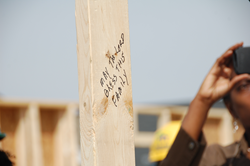 Greenbsoro, NC (PRWEB) March 29, 2014
On Saturday, March 24, 2014, Westover Church and Calvary Christian Center began building a new Habitat home. The partnership celebrates Habitat for Humanity of Greater Greensboro's ministry of bringing people together to build homes, communities and hope.
The kickoff event was Saturday, March 22, 2014, from 11 a.m. to noon at 1637 Sunrise Valley Drive, Greensboro. Maria Hanlin, CEO of Habitat Greensboro, presided over the ceremony. Speakers included Wes Ward, Pastor at Westover Church, Vince Hairston, Senior Pastor at Calvary Christian Center, Paul Stennett, Pastor of Family Life at Calvary Christian Center and Margaret Wheaton, a volunteer at Westover Church. This is Calvary Christian Center's first home build with Habitat Greensboro. Westover Church has partnered with Habitat twice before—co-sponsoring a house in 2008 and sponsoring a house in 2010.
The kick-off ceremony included an opening prayer by Wes Ward, Pastor at Westover Church. Rev. Vince Hairston and Margaret Wheaton delivered sponsor remarks. Rev. Vince Hairston, "We are blessed to have this opportunity to build a home alongside Westover Church and to create a new home for this family. Margaret Wheaton said, "Westover Church is excited to again partner with Habitat for Humanity! We're privileged to answer this call to serve, and we look forward to working alongside the family that will move into the home."
Habitat staff, the sponsors and the family joined together for the wall raising. Then, the assembled wrote blessings to the family on the newly erected frame. Soon to be new homeowners Fred Yonly and Ruth Kpaeyeh were present. Fred spoke, "I am so thankful for Habitat, Calvary Christian Center and Westover Church for making my dream come true. I don't have the words to express how grateful I am today. This has been my goal ever since I came to this country." Fred and Ruth immigrated to the United States from Liberia in 2005. The family is thrilled to be working with Habitat Greensboro; Westover Church and Calvary Christian Church to provide a safe, healthy home for their family. Fred is employed at Culp, Inc. and Ruth is busy caring for their three small children.
"When Habitat volunteers build in partnership with families in need, they create a solid, affordable house structure and because of the stability a decent home provides; they renew hope in the hearts of those families and establish a promising foundation from which parents and children can better prepare for the future, " says Habitat International CEO, Jonathan Reckford.
# # # # #
About Habitat for Humanity of Greater Greensboro
Habitat Greensboro was formed in 1987 by four Christians in response to their Habitat experience in Peru. Twenty-five years later, Habitat Greensboro has expanded to almost 5,000 volunteers and 30 staff who build, renovate and provide critical repairs to 30 to 35 homes each year, serving 420 families in Greensboro and 400 internationally.
How the Habitat Model Works
Habitat for Humanity partners with families who have steady employment for one year, participate in a thorough credit analysis, attend educational classes on budgeting and home repair and contribute 300 hours of sweat equity. Homeowners purchase their homes from Habitat at no-profit and with interest-free financing. Habitat then serves as the mortgage lender providing life of the loan 0% financing and loan servicing to Habitat homeowners.