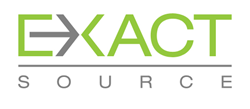 As a Silver Sponsor, ExactSource will be conducting an educational session at this year's Convention entitled "Engineering Trends in Compensation."
Atlanta, GA (PRWEB) March 28, 2014
ExactSource, a national leader in the delivery of talent management solutions and software to engineering firms, has been announced as a Silver Sponsor for the upcoming American Council of Engineering Companies (ACEC) Annual Convention & Legislative Summit. The Convention, which is the first of two major conventions ACEC sponsors each year, will take place April 27-30, 2014 at the Grand Hyatt Hotel in Washington, DC. These national meetings give ACEC members an opportunity to acquire information and collaborate on issues that affect the engineering industry through educational and social forums. 
As a Silver Sponsor, ExactSource will be conducting an educational session at this year's Convention entitled "Engineering Trends in Compensation." Katy McDonald, ExactSource COO, will present on this topic, analyzing Executive compensation structures in the A/E sector and discussing overall trends in compensation among Engineering disciplines. 
Conference attendees will also be able to learn first-hand about ExactTrack, the premier applicant tracking system for architecture and engineering firms. ExactSource will also have live demos of their ExactProfile technology; a proprietary pre-employment skills assessment tool that is now being offered free of charge. To see this breakthrough skills testing software, stop by the ExactSource booth (booth #110) where they will also be exhibiting their other service offerings, which include Technical and Leadership Recruiting, Strategic Growth, Consulting, Market Research and Brand Management Solutions.
For those unable to attend this year's convention, they can visit the ExactSource website or contact Dana Williams at dwilliams(at)exactsource(dot)com to learn more. 
About ExactSource
ExactSource is the leading recruiting, organizational consulting, market research and software solutions company providing services to firms in the Architectural and Engineering sector.
ExactSource is best known in the A/E/C industry for their highly acclaimed ExactProfile technology, a system released in 2012 that assesses and catalogues more than 115 critical engineering skill sets and experience levels that aren't typically identified on a resume. Using this breakthrough screening software, HR managers are able to instantly identify the technical candidates that meet their exact requirements. This methodology provides a smarter way to hire and it is the objective of ExactSource to have every A/E/C firm across the country using ExactProfiles as part of the hiring process.
ExactSource brings a combined 151 years of experience in technical and leadership recruitment and has established a prominent presence in the Engineering community. The company successfully serves firms in 39 states across the nation, including over 20 firms on the Top 500 A/E list.
As part of the ACEC Member Discount Program, ExactSource provides special offers exclusively to ACEC members. Visit http://www.exactsource.com/expertise/ to learn more.