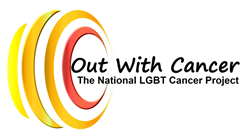 A cancer journey present unique challenges for those who are lesbian, gay, bisexual or transgender with respect to medical care and social and emotional support.
Louisville, KY (PRWEB) March 28, 2014
The National LGBT Cancer Project - Out With Cancer, in collaboration with Gilda's Club Louisville Kentucky is proud to announce a new LGBTQ cancer survivor support group.
"We are excited to have the opportunity to offer cancer support services to the Louisville LGBT community with an affiliated cancer survivor support group," announced Darryl Mitteldorf, LCSW, Executive Director of the National LGBT Cancer Project. "LGBT persons who are battling cancer also have the added stress of navigating a medical system that is sometimes hostile to LGBTQ persons," said Mr. Mitteldorf.
The Louisville LGBT cancer survivor support group will meet on the first and third Thursday each month from 6:30 to 8PM at Gilda's Club, located at 633 Baxter Avenue.
"This new LGBT Cancer Support Group will give members of my community the opportunity to reach out, support, and network," said Julie Feingold, a social worker with the National LGBT Cancer Project.
"We believe it is important that these individuals and their care givers have a safe place where they can gather to share concerns and receive support without having to reveal their sexual orientation to strangers who may not be accepting or welcoming. This support group also will allow members to focus on issues unique to LGBT individuals, such as problems with their partners being recognized as family, the lack of insurance and other benefits they would have if they were in a heterosexual relationship, and the lack of support from their family of origin," said Mr. Mitteldorf.
"We are honored to be working with Gilda's Club, an organization that has helped thousands cancer survivors across the United States gain life extending help from groups like these....we are certain that the Louisville LGBT group will prove a vital source of support and hope to cancer survivors," said Mr. Mitteldorf.
For more information or directions: http://www.gildasclublouisville.org/events
About the National LGBT Cancer Project -Out With Cancer
Founded in 2005, the National LGBT Cancer Project is America's first cancer survivor support network and advocacy nonprofit organization focused on the health and social issues unique to Lesbian, Gay, Bisexual and Transgender people. More information can be found at http://lgbtcancer.org and on facebook at http://facebook.com/lgbtcancerproject and on twitter at: twitter.com/lgbtcancer