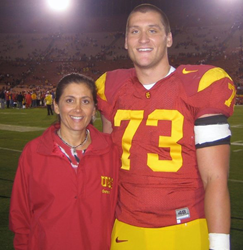 When I look back on my time as a student at USC, it was spent eating with entrepreneurs, playing video games with Super Bowl champions, surfing with Olympic medalists, socializing with doctors, and collaborating with concert pianists. - Steve Gatena
Los Angeles, CA (PRWEB) March 28, 2014
Over the last two summers, student and alumni leaders of a dozens of emerging businesses were given the opportunity to accelerate and incubate their businesses at the Lloyd Greif Center for Entrepreneurial Studies at the USC Marshall School of Business. VideoFort, founded by USC Trojan Steve Gatena was one of the first to complete the program in the summer of 2012.
"We launched in Summer of 2013, about 9 months after developing the concept at USC. By developing my concept at the Lloyd Greif Center, with the help of professors like Andrea Belz, whose efforts to grow technology companies includes stints at NASA and the California Institute of Technology, we were able to speed up the trajectory of our business." Steve Gatena, President of VideoFort.
Participants, most of whom run Internet companies like http://www.VideoFort.com, attended weekly workshops in which they heard experts speak on everything from the legal ramifications of operating a business to accounting and marketing practices. The program ran for 10 weeks and culminated in entrepreneurs making pitches to top local investors.
"I started my first company REP Interactive as a homework assignment in 2009. When I decided to work on VideoFort as a side project and heard about the summer program I knew it was an amazing opportunity to recapture some of the energy on campus and work with the professors. The University of Southern California is a very special place. Both the students and the faculty are remarkable. When I look back on my time as a student at USC, it was spent eating with entrepreneurs, playing video games with Super Bowl champions, surfing with Olympic medalists, socializing with doctors, and collaborating with concert pianists. Only then, we were all just kids with a dream, and USC was the environment that cultivated and groomed our skills. If you want to set yourself up for success you couldn't ask for a better environment" said Steve Gatena.
Just recently, Gatena's second company VideoFort signed a major licensing and distribution deal with publicly traded company Shutterstock, Inc. Shutterstock, a New York company founded by Jon Oringer, is a leading global provider of high quality licensed imagery to small businesses, advertising agencies, and media organizations around the world.
"VideoFort, founded by Steve Gatena and Alan Purwin, is one of Hollywood's largest and most successful producers of HD and 4K royalty-free footage. We're thrilled to announce that they recently made their collection available on Shutterstock." Derick Rhodes, Shutterstock.com.
To see Steve speak at NAB, please email chris (at) repinteractive (dot) com for more information.