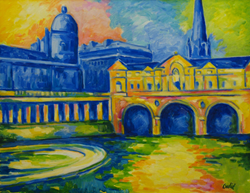 I am passionate about authentic emotional and artistic expression using pure colors and simple forms.
(PRWEB) April 02, 2014
AANTV is proud to host an art auction on April 5, 2014. They will be presenting art by special guest Bernard Oulie live on-air at 12 a.m. Eastern Standard Time. They will also be streaming the auction on the AANTV website.
In the manner of Van Gogh, Bernard Oulie is known for his use of wide brush strokes and bright colors. Having many oil on canvas paintings of landscapes, Bernard Oulie captures life in all its color and glory.
Inspirations surrounds Bernard at his secluded island off the coast of Belize. Still life paintings and landscapes are among his most popular paintings.
To become a registered participant, you must register to bid prior to the scheduled auction event.
View the Bernard Oulie Auction catalogue here.
At AANTV, art auctions are held on a regular basis. You can find thousands of paintings by some of the best artists on their website.
From Still Life and Realism capturing the peaceful essence of life to Abstract art that can be interpreted in many ways, AANTV is a gold mine of rare art.
About America's Auction Network:
AANTV is a live TV Auction & Shopping Channel that is on-air 24 hours, 7 days a week on the following networks:
Watch Online Streaming on aantv.com
DirecTV ch. 324
Dish Network ch. 219
Time Warner
Bright House ch. 165
RLTV 2am - 6am
America's Auction Network is a licensed and bonded auction house bringing you the best in fine Jewelry and Gemstones, Rare Coins and Currency, authentic one of a kind Persian and Afghan Carpet and Rugs, Modern, Estate and Fine Art, Antiques and Collectibles and Coast to Coast Foreclosed Real Estate.
See America's Auction Network's Auction Calendar for details on upcoming Auction events.