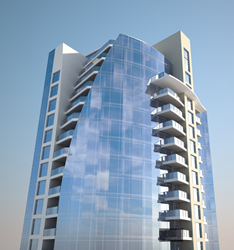 Symphony represents the evolution of city living that will enhance the lives of residents.
Edmonton, AB (PRWEB) March 28, 2014
Symphony Tower Edmonton schedules their much anticipated release party for upper floor penthouses, sub-penthouses, luxury condos and town houses. Symphony Tower in Edmonton, Alberta is an elegantly designed commanding structure.
The building's concept was created as a nod to combine boutique living with the ambience of an urban retreat. The launch gives prospective residents the opportunity to investigate the magnificent offering that Symphony Towers has to offer.
Symphony represents the evolution of city living that will enhance the lives of residents. This location presents the comfort of a luxury urban home, while the setting is adjacent to the sustained attractions of nature in Edmonton's Legislature and river valley trail system.
Symphony Tower has gained notoriety with professionals who work downtown, and are searching for a residence that offers convenience, great location, and indulgent amenities. What makes Symphony Tower unique is the access to nature as well as city activities; via the river valley trails urbanites have the ability to go and reenergize in the serenity of nature or walk to local city happenings.
There are numerous superior qualities that distinguish the luxury condos, penthouses and town houses at Symphony Tower Edmonton. BK Architecture has created a sensational structure that consists of 143 custom suites, including six unique town homes; providing residents with the quality and amenities to enjoy a life of city-nature balance. Floor to ceiling curtain wall glass and glass balconies give unobstructed views of the Edmonton River valley, city center, and the stunning landscaped grounds and water fountain feature.
The launch gives prospective residents a chance to explore and learn about the varied collection of amenities as well as meet the developer, Rockwood Management. The amenities provided for residents facilitate a pleasant building community to support a fulfilled life.
Symphony has an owner's lounge & entertainment area on the fourth floor, as well as a professionally equipped fitness area. The building has a secured keyless garage, video surveillance recording in building and parkade, and lobby entrances with an intercom system. The underground heated parkade includes one or more parking stall with every unit, and there are some available to purchase. The premium suites include two stalls and personal storage locker. There is also the convenience of an indoor car wash bay for all residents. The building is pet friendly; in accordance to the by-laws there is a two pet maximum. For the benefit of residents and their visitors, there are three high-speed elevators that access from the parking levels to all residential floors.
Symphony Tower Edmonton is in walking distance of many opportunities. In close range to the building, the area offers shopping, commerce, schools, restaurants, and entertainment in downtown Edmonton. Transportation is a breeze with the ever expanding light rail transit system of the city, less than 10 minute walk from Symphony Tower's front door.
The blend of boutiques, bistros, and bars along Jasper and Whyte Avenue gives residents the excitement and enjoyment of one of the city's most popular entertainment districts. Health and wellness living can be supported by exploring the delightful downtown farmers market on 104th Street or on Whyte Ave. The luxury condos are close to many outdoor activities that are great to enjoy during the summer months. The Alberta Legislature grounds, Kinsmen Sports Centre, Kinsmen Spray Park, Kinsmen Pitch & Putt are in close proximity to Symphony Tower. You can find relief and relaxation at the Queen Elizabeth outdoor pool during the hot summer months. There are also children playgrounds, sports fields, and picnic sites that offer up casual afternoon activities.
Come to the launch to experience and explore the unique quality of living offered to to the residents of Symphony Tower Edmonton.
Symphony Tower Edmonton is located at 9704-106 Street NW, Edmonton, Alberta T5K 1B6. They can be contacted by email: info(at)SymphonyTower(dot)ca, phone: 780-701-0058.