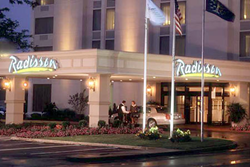 "Our partnerships are targeted to expand and change the way people look at airport parking today."
Indianapolis, IN (PRWEB) March 28, 2014
Greenbee Parking, a fast growing airport parking firm, has just announced that Radisson Hotel will be a preferred hotel partner in Indianapolis. Travelers using the busy Indianapolis (IND) airport can now easily pre-book a parking space online and get great deals in return. Greenbee offers great Indianapolis airport parking rates for their long term customers but also have very affordable options for their one time or other short term customers as well. In short, they have come in to completely revolutionize the way people think of airport parking and make it one of the most pleasurable experiences.
"Our partnerships are targeted to expand and change the way people look at airport parking today," said Christine Cooper – Marketing Coordinator, Greenbee Parking. "We want our customers to know that there will always be an exclusive parking option for them even though they are not checking into these exclusive facilities. All these will be available without a premium price attached to them because we are coming up with the best and cheapest Indianapolis airport parking rates."
Indianapolis International Airport Parking Information
Indianapolis International Airport is located strategically close to major interstate highways along with the central business district of Indianapolis. Together, they contribute to the major business travel figures in the area and their footfalls in the Indianapolis (IND) airport. The proximity to the highways also contributes to the tourism figures for the airport and the area in general. The airport sees a heavy passenger footfall as well as a high volume of cargo traffic around the year. Increasing business has led IND authorities to focus heavily on upgrades in recent times, one area of which is the airport parking. Independent providers like Greenbee Parking are working hand in hand with the authorities to expand the current services and offer multiple parking options and deals for travelers here. The affordable Indianapolis airport parking rates has made Greenbee stand out as a preferred choice among many others in a very short time.
The Greenbee Airport Parking Solution
Greenbeeparking.com is the connection between consumers and parking vacancies in close proximity to major airports and seaports. The parking spaces are very affordable because the company has negotiated discounted rates with major hotel chains for the parking spaces that are not currently occupied. Here's how it works.
Greenbee Parking puts the available inventory of parking spaces on their website to be reserved by business and leisure travelers looking for cheap airport parking. This alternative method for finding parking equates to significant savings for the traveler. You can learn more about their offers from (http://youtu.be/RWc3dqhugFA) or via the web at (http://www.greenbeeparking.com).
About Greenbee Parking
Greenbee Parking is the nation's most innovative long term parking company, with a new way of making long term parking affordable. The company is rapidly adding new airports to its network.