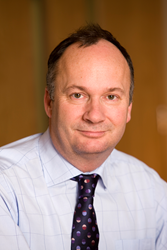 Cubic Transportation Systems is one of the best kept secrets in this highly commercial important part of the UK.
SAN DIEGO, Calif. (PRWEB) March 28, 2014
Roger Crow, senior vice president and managing director of Cubic Transportation Systems' European operations, won the Gatwick Diamond "Business Person of the Year" award. The accolade recognizes Roger's contribution to keeping millions of UK travelers on the move in the 20 years since he joined Cubic as a project manager.
Among the projects for which he has had overall responsibility are Transport for London's (TfL) Oyster card and Southern Railway's "the key" smart card, which have simplified travel in London and South-East England.
Ian Smith, partner at award sponsor Deloitte LLP, said, "Cubic Transportation Systems is one of the best kept secrets in this highly commercial important part of the UK. Roger and his team have played a major role in making TfL – and in particular the Oyster card system – a model for forward-thinking city transport infrastructures around the world.
"The business has more than doubled in size in the last few years, now turning over more than £150m. The level of innovation and delivery under intense public scrutiny is a fantastic story of the successful business here in the heart of Gatwick Diamond."
"I am delighted to receive this accolade," said Crow. "It is gratifying for me on a personal level, but much more important is the judges' acknowledgement of the vital role the entire Cubic team plays in supporting our customers. We continue to work hard in delivering resilient solutions and service for our customers in London, the UK and around the world and deeply appreciate being recognized in this way."
The Gatwick Diamond area extends from the edge of the M25 motorway to the south coast of England. It includes all of the major towns in the Surrey, Sussex and Kent regions, stretching from Croydon, the International Gatwick Airport, Cubic's UK headquarters in Redhill, and extending to the seaside commuter town of Brighton & Hove.
More than 45,000 local and 500 international businesses operate from the region. The area benefits from excellent transport links, a good skills base, a talented labor force, strategic location and highly developed supply chain.
To find out more visit http://www.gatwickdiamondbusinessawards.com.
About Cubic Corporation
Cubic® Transportation Systems, Inc., is part of Cubic Corporation. Cubic Corporation is the parent company of three major business segments. Cubic Defense Systems is a leading provider of realistic combat training systems and secure communications systems. Mission Support Services is a leading provider of training, operations, maintenance, technical and other support services for U.S. and allied nations.
Cubic® Transportation Systems, Inc., is a leading integrator of payment and information technology and services for intelligent travel solutions. Cubic delivers integrated systems for transportation and traffic management, delivering tools for travelers to choose the smartest and easiest way to travel and pay for their journeys, and enabling transportation authorities and agencies to manage demand across the entire transportation network – all in real-time. Cubic specializes in design, development, manufacture, supply, installation, integration, services and information. Services provided by Cubic include on-site management, central systems, operations support, patron support, business support and field services.
Every year, more than 24 billion transportation payment transactions are processed using Cubic payment and information systems worldwide. Cubic has delivered over 20 regional back office operations which together integrate over 130 transport operators and serve over 38 million people every day in major markets around the world. Active projects include London; Brisbane (Southeast Queensland) region, Australia; New York/New Jersey region; Washington, D.C. /Baltimore/Virginia region; Los Angeles region; San Diego region; San Francisco region; Minneapolis/St. Paul; Chicago; Atlanta region; Miami (South Florida) region; Vancouver and Edmonton, Canada; Sydney (New South Wales), Australia; Germany; and Scandinavia.
For more information about Cubic, see the company's website at http://www.cubic.com/.
Contacts:
Tony Brown/Harriet Jamieson
HAMG360
PH: +44 (0) 20 8289 6216
Tony.Brown(at)HAMG360(dot)com
Harriet.Jamieson(at)HAMG360(dot)com
Timothy A. Hill
Director of Corporate Communications
Cubic Corporation
PH: 858-505-2430
Cell: 858-232-2927
timothy.hill(at)cubic(dot)com