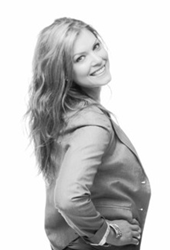 Every moment presents a CHOICE to STRIVE for your DREAM or BE the VISION that you want now. What will you choose?
Los Angeles, CA (PRWEB) March 28, 2014
Women are scaling new heights day by day and have gone far up the corporate ladder. They have successfully broken the mythical glass ceiling and are more career oriented than ever before. A handy new book for them titled 'Man-Erisms: Disrupting Female Roles to Shift the Paradigm of Working Women' is a fresh spin on actions Men innately produce in the workforce that help them earn their status and how Women can incorporate these simple actions to boost their careers with additional guidance by entrepreneur and author Bethany Londyn.
The latest book by Bethany Londyn comes packed with important tips and information that will help the working woman get ahead in her professional life, whether she is working by herself as an entrepreneur or is an employee of a company. The book serves as a handy guidebook for such Women as it aids them in furthering their knowledge about how to conduct themselves in a way that proves to be advantageous for them. 'Man-Erisms: Disrupting Female Roles to Shift the Paradigm of Working Women' is now available on Amazon for a short time priced at $2.99.
The way a woman conducts herself at the workplace, in front of her clients, boss or employees, does vary from the way a man does, generally speaking. This new book will make women identify what they may be doing wrong or where they may be going wrong and rectifying it duly. Some of the important gems of advice contained in this book are to control one's emotions, stand up for oneself and be assertive and to stay away from making non-committal statements, among many others.
Bethany Londyn is the catalyst consultant of Londyn Heights LLC and CEO of ShopAddiKt.com. She is extremely passionate about startups and empowering/inspiring others. She has been a successful entrepreneur who has worked for more than 10 years in Management and Sales positions in the Finance and Real Estate sectors, developed a Real Estate Portfolio and helped create a few startups over the past few years by working in them as a Business/Market Development and Project Manager.