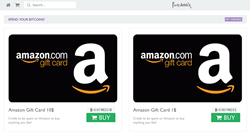 New York, NY (PRWEB) March 31, 2014
Since March 1st, 2014, Film Annex has started paying its community of Content Partners (Filmmakers and Bloggers) in Bitcoin (BTC), which is a peer-to-peer payment system and digital currency that can be used for online payments and transactions.
Film Annex believes that Bitcoin is a more efficient payment and low cost system for its community of 300,000+ registered users from 245 countries, Islands and Territories.
This week, Film Annex launched its marketplace where users will be able to buy products online with their Bitcoin. The revenues will be available immediately if the user chooses to spend them in the marketplace, with no minimum amount. Film Annex's users can now buy Amazon gift cards of several different amounts, starting at BTC 0.0019 ($1.00). Many other items will be available soon in the marketplace.
The Film Annex marketplace is easily accessible from the website beta version and symbolized on the Film Annex homepage by a shopping cart icon.
About Bitcoin:
Bitcoin is a global currency that can be used for online payments and transactions. It is very efficient and much less costly than traditional currency and banking systems. Bitcoin can be converted easily into US Dollars, Euros, Japanese Yen, and many other "traditional" currencies in both developed and developing country currencies. Bitcoin can be used at hundreds of online websites today, and it is growing every day. It can also be traded and converted at many online exchanges and brokers.
About Film Annex Networks:
Film Annex Networks is the venture arm of FilmAnnex.com, which is ranked as one of the Top 100 web sites in America with over 25+ million unique visitors per month. Film Annex is a leading online short film distribution, blogging, and film financing platform.
The Wall Street Journal stated: "Film Annex will go to an all-bitcoin payment model. The site has made waves with a radical new business model by which it shares part of its ad revenue with the independent film makers and bloggers that provide its content."
Film Annex's growth is due to its unique #SocialMediaThatPays business model, which includes:

Paying Content Providers through the Film Annex BuzzScore,
Partnering with Filmmakers and Bloggers in the first wave of #SocialMediaThatPays,
Low internal overhead, advertising money is shared with Content Partners,
Private ownership, 5+ years of continuous profitability.
Film Annex pays its Content Partners in Bitcoin, and our Women's Annex Foundation is exploring Digital Currencies in Developing Countries and Philanthropy.