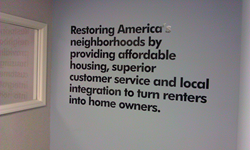 "Vision will always be a company that gives back. We give back to communities by helping create home owners and we give back to our local community through volunteer hours and donations to those in need." Steven Randall, VP of HR & Chief Strategy Officer.
Columbia, SC (PRWEB) April 08, 2014
Vision Property Management (vpm3.com) is one of the nations leading alternative sources for home ownership. The company's lease to own program is turning renters into homeowners daily. From humble beginnings in a single office suite with 5 employees to now a company with over 100 employees located in a newly renovated 25,000 square foot office space located in the 45,000 square foot 16 Berryhill Road building, alongside I-26 in Columbia, SC.
The new facilities are equipped with several office suites, an open air atrium, two full size employee break rooms, a climate controlled server room and multiple conference rooms. A new high definition security monitoring system has been installed by long time business partner Comsurv from Charleston, SC to ensure the safety of all employees and other tenets sharing the facility space. "The additional space will allow Vision to grow and help us better serve our customers home buying needs," says Devon Corley, Offline Marketing Coordinator.
The new facility, shared by business such as Spherion Staffing, allows Vision Property Management to now house its entire staff in one building; a strategic move that will boost collaboration and communication across the company which in turn translates to better and faster service to it's customers. "The goal was not to just upgrade facilities for the sake of our company but we wanted to look at options to help contribute to the growth of other Columbia area businesses and the economy of South Carolina," stated Steven Randall, Vice President of Human Resources and Chief Strategy Officer for Vision Property Management. "The St. Andrew's area made sense for us because it allows us to create the best environment possible for our employees, share a facility with other growing companies and develop relationships with area businesses and restaurants. One of our foundational core values is that People Matter, inside and outside of our company, and this move solidifies our commitment to value our employees and our community as a whole."
Vision prides itself in giving back. The company recently gave to Doctors Without Borders to assist with the relief effort after the Tsunami in the Philippines, military personnel stationed in the Middle East, and families displaced by a fire in the West Columbia Area. Now vision is donating office furniture to Palmetto Thrift Store, a local organization that raises money for children with cancer. "We are passionate about the people in our company and when you instill that passion in over 100 employees they become passionate about the community of people around them," says Randall, "Vision will always be a company that gives back. We give back to communities by helping create home owners and we give back to our local community through volunteer hours and donations to those in need."