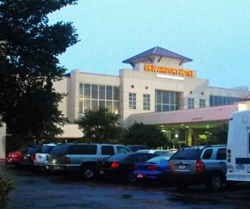 "Our focus is to ensure that we offer the latest innovations in parking at the cheapest of rates."
Dallas, TX (PRWEB) April 02, 2014
Greenbee Parking, a young and growing airport parking firm, has received commendations for their innovative and affordable service and deals in Dallas. Travelers using the busy Dallas (DFW) airport have hailed their service as one of the easiest and most affordable in the latest Dallas airport parking reviews. They have also showed a definite inclination to continue with their services which allows them to pre-book a space online, anytime and from anywhere and at very affordable rates. Now one can be assured that even with last minute bookings they can get secure spots for their vehicles, allowing them to travel in peace and also without a premium charge for the late bookings. The overall consensus has been that one can now save anything between 30-75% on their parking expenses, compared to earlier experiences.
"Our focus is to ensure that we offer the latest innovations in parking at the cheapest of rates," said Christine Cooper – Marketing Coordinator, Greenbee Parking. "Whatever traveler's needs or problems are, our team explores all options on a continuous basis and comes up with solutions. The result is a wide range of parking deals that benefit our customers 100% of the time and we are happy that our efforts have been appreciated in the Dallas airport parking reviews."
Dallas-Fort Worth International Airport Parking Information
Dallas-Fort Worth International Airport ranks high among the largest and busiest airports in the country as well as the world. All major airlines and all major cargo brands connect through this airport. It sees a high volume of both business and leisure travel around the year which means heavy passenger footfall. With 200 global destinations connected with DFW every day and its world class operations, it is lauded as one of the top 10 airports of the world. Known for its outstanding customer service, the airport has seen major upgrades in recent times to improve on traveler experience even further.
They have also been supported in this endeavor by private entities Greenbee Parking who offer innovative and extensive parking options for travelers here. Their affordable and easy deals have already made them a favorite with customers, a fact that this amplified in the latest Dallas airport parking reviews.
The Greenbee Airport Parking Solution
Greenbeeparking.com is the connection between consumers and parking vacancies in close proximity to major airports and seaports. The parking spaces are very affordable because the company has negotiated discounted rates with major hotel chains for the parking spaces that are not currently occupied. Here's how it works.
Greenbee Parking puts the available inventory of parking spaces on their website to be reserved by business and leisure travelers looking for cheap airport parking. This alternative method for finding parking equates to significant savings for the traveler. You can learn more about their offers from (http://youtu.be/RWc3dqhugFA) or via the web at (http://www.greenbeeparking.com).
About Greenbee Parking
Greenbee Parking is the nation's most innovative long term parking company, with a new way of making long term parking affordable. The company is rapidly adding new airports to its network.