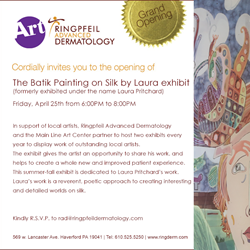 The art exhibit at our office creates a positive and inspiring experience for our patients.
Haverford, PA (PRWEB) March 29, 2014
In support of local artists, Ringpfeil Advanced Dermatology in partnership with the Main Line Art Center, hosts two exhibits every year to display work of outstanding artists from the Philadelphia and Main Line area. The exhibit gives the artist an opportunity to share his/her work, and helps to create a whole new and uplifting patient experience. This summer exhibit features Batik Painting on Silk by Laura (Formerly exhibited under the name Laura Pritchard).
The exhibit opening reception will take place on Friday, April 25 from 6 PM to 8 PM at the Ringpfeil Advanced Dermatology gallery on 569 W. Lancaster Avenue in Haverford PA. The event is open to the public (Please R.S.V.P to rad(at)ringpfeildermatology(dot)com).
"The art exhibit at our office creates a positive and inspiring experience for our patients. Having a positive shift in their state of mind just before meeting their physician helps in motivating them to make a positive change in their life style and to comply with their treatment plan," says Dr. Franziska Ringpfeil, board certified dermatologist and founder of Ringpfeil Advanced Dermatology.
Laura's work is a reverent, poetic approach to creating interesting and detailed worlds on silk.
The luminous fabric is a joy to work on and watching the colors of the dyes spread as they are absorbed is transfixing. The molten wax, as resist, is warm and flexible and creates another dimension to the experience. The craft of batik becomes a fine art.
Click here to see a preview of the exhibit.
About Ringpfeil Advanced Dermatology
Ringpfeil Advanced Dermatology provides premium general dermatology, cosmetic dermatology, dermatological and laser surgery to the Philadelphia, Main Line, and Delaware Valley area. The practice was founded by Franziska Ringpfeil, MD, a board certified dermatologist with training in both the US and Germany as well as national and international recognition through lectures, peer-reviewed articles and many book chapters. She is assistant professor at Jefferson Medical College and the recipient of the prestigious Young Investigator Award by the American Academy of Dermatology. Her practice provides uncompromised quality of care through experience, technology, and focus on patient satisfaction.
About Laura
Laura learned the basic technique of batik from her high school art teacher, Rowena MacPhail, went on to attend several art schools, graduating summa cum laude with a BFA in Art Education and Art History from the College of Fine Arts, Ohio University. She had a successful career as an award winning graphic designer and creative director (working for National Geographic Society and winning awards from AIGA, Print, and more), all the while exhibiting her fine art work. Her batik paintings are unique and have garnered many awards. She also has extensive experience in teaching and continues to do so including in outreach programs. Her studio is in the Philadelphia area and she is represented by The Rosenfeld Gallery in Philadelphia.