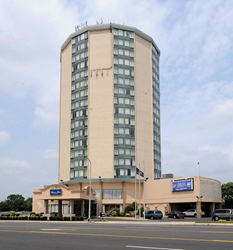 "We are constantly coming up with new ideas in order to serve our customers better."
Philadelphia, PA (PRWEB) April 04, 2014
Greenbee Parking, a new and upcoming airport parking firm, has announced a series of new parking offers for all travelers using the Philadelphia (PHL) airport. The young service provider has carved a definite niche for themselves in a very short time and is becoming increasingly popular for their innovative parking deals. They have multilevel options for all kinds of parking needs, short term as well as long term thereby catering to all demands for travelers here. One can get discounted and cheap Philadelphia airport parking rates, even if one is booking for a day or two, or at the last minute. They have made it possible for all to save anything between 30-75% off their airport parking expenses very easily with these new deals.
"We are constantly coming up with new ideas in order to serve our customers better," said Christine Cooper – Marketing Coordinator, Greenbee Parking. "To this end, continuous research is undertaken so that we can anticipate changes and meet with new parking demands head on. Our planning helps us improve our services and offer cheap Philadelphia airport parking round the year."
Philadelphia International Airport Parking Information
Philadelphia International Airport is a large and busy airport serving Philadelphia and is considered one of the largest airports in the Delaware valley region. It is located very close to downtown Philadelphia as well as the Interstates 76, 95, and 476, all of which combine to make it a preferred connecting point for business as well as leisure travelers. In 2013, the airport accommodated 30.5 million passengers and witnessed 4.3 million international passengers footfalls. It also reported more than 600 daily departures to 124 cities, including 38 international destinations with 432,884 aircraft takeoffs and landings. These staggering figures mean increasing business for the airport which generates more than $14.4 billion in revenue and accounts for more than 141,000 jobs in the region. It has undergone more than $1 billion in renovations in the last decade. They are supported by private players like Greenbee Parking for expanding their services and improving traveler experience with the cheap Philadelphia airport parking options.
The Greenbee Airport Parking Solution
Greenbeeparking.com is the connection between consumers and parking vacancies in close proximity to major airports and seaports. The parking spaces are very affordable because the company has negotiated discounted rates with major hotel chains for the parking spaces that are not currently occupied. Here's how it works.
Greenbee Parking puts the available inventory of parking spaces on their website to be reserved by business and leisure travelers looking for cheap airport parking. This alternative method for finding parking equates to significant savings for the traveler. You can learn more about their offers from (http://youtu.be/RWc3dqhugFA) or via the web at (http://www.greenbeeparking.com).
About Greenbee Parking
Greenbee Parking is the nation's most innovative long term parking company, with a new way of making long term parking affordable. The company is rapidly adding new airports to its network.