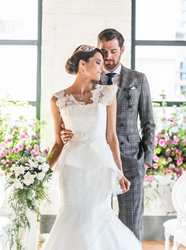 We think brides are worth more than simple keepsakes.
Dunmore, Alberta (PRWEB) March 31, 2014
Inspired by vintage aesthetic that has permeated popular culture, many couples getting married in 2014 are choosing to go retro for their big day. To help implement the popular vintage wedding theme, wedding décor designer Weddingstar introduces the 2014 Vintage Collection featuring an eclectic fusion of modern utility and old world charm.
Explore the collection and unique ways to create a vintage wedding look on http://www.weddingstar.com/theme/vintage-theme.
Why Are Vintage Themed Weddings Gaining Popularity?
Today's couples are more discerning about their wedding style than ever before and look for inspiration in resources like Pinterest and popular culture. As the intimate charm of vintage-styled decor becomes a popular trend everywhere from fashion to interior design, it's no wonder that brides and grooms are searching for unique ways to incorporate the days of old into their wedding vision.
With the new demand for vintage decor, Weddingstar has created the Vintage Collection that includes popular items like:

tabletop décor to customize a variety of guest tables
guest favors that are both pre-packaged and DIY-friendly
ceremony accessories made with popular materials of the past like wood, lace and distressed metal
See vintage wedding décor come to life on http://www.youtube.com/watch?v=CYMInlF5wLw.
From "I Do" and Beyond – Vintage Designs Versatility
Vintage design isn't popular only for its beautiful look, but also for its versatility. Today's couples are choosing wedding designs that can be easily transferred to fit into their home. With that in mind, Weddingstar crafted the Vintage Collection to be easily transformed into sleek home décor after the I Do's.
"We think brides are worth more than simple keepsakes – that's why we created a collection that can enhance their homes in a way that carries sentimental value yet looks completely natural," said Weddingstar's CEO, Rick Brink.
More information and images of Weddingstar's Vintage Collection can be found on http://www.weddingstar.com/theme/vintage-theme.
About Weddingstar
Weddingstar Inc. is one of the world's leading designers, manufacturers and retailers of wedding decorations and accessories. Dedicated to providing quality service to brides around the globe, Weddingstar ships to over 100 countries worldwide with distribution points in Europe, North America, Argentina, Australia and Russia. Featuring an ever-expanding selection of bridal accessories with over 3,000 different product offerings, Weddingstar is a one stop destination for every wedding need. With 30 years of experience in the wedding industry and having received numerous business awards, Weddingstar has earned a reputation as the source for 'Putting the Wow into Weddings.' For more information, please visit http://www.weddingstar.com.