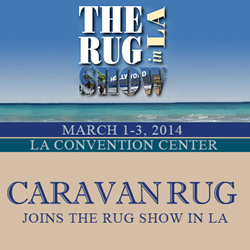 I can only say it was a big hit, and we can't wait until next year to do it again.
Beverly Hills, CA (PRWEB) March 27, 2014
Caravan Rug Corp, long one of the largest and most renowned rug showrooms in Los Angeles, today announced that, since their participation in the West Coast debut of The Rug Show, which ran at the LA Convention Center from March 1st through 3rd, they have experienced a significant uptick in business. This includes both an increase in foot traffic in their Beverly Hills showroom and increased revenue both at their brick and mortar store and on their shopping cart website. Caravan's research concluded that the increase was directly connected to their participation in the show.
"We were thrilled at the response we received at The Rug Show and since," says Caravan's managing director, Jay Nehouray. "I can only say it was a big hit, and we can't wait until next year to do it again."
The Rug Show was started in September 2013 with their first show at the Javits Center in Manhattan.
The Rug Show is a non-profit industry association made up of rug producers, importers and wholesalers. Their primary goal is to "better promote and expand the collective interests of our industry." With their premier event last September, The Rug Show brought together the most important rug markets in the New York-New Jersey area and established this as one of the rug industry's most important trade events.
Caravan has been doing business from their Beverly Hills showroom for more than 30 years. In that time they've taken a leadership role in the areas of modern designer rugs as well as traditional Oriental carpets and antiques. All of their new area rugs are handmade in one of Caravan's rug making facilities.
In addition to having the largest retail rug showroom in the Los Angeles area, Caravan is also a manufacturer and distributor of fine handmade area rugs. They supply their branded creations to a large network of dealers all over the country. Caravan owns several manufacturing centers in Afghanistan, Pakistan, India and Nepal, where these rugs are hand woven in the centuries-old method.