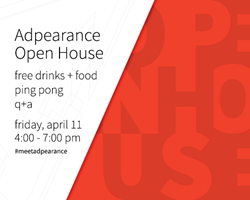 Portland, Ore. (PRWEB) March 28, 2014
Digital marketing agency, Adpearance, Inc., will host an open house on Friday, April 11 from 4 p.m. to 7 p.m., complete with networking opportunities, an interactive information session, a Q&A with Adpearance's team leads and co-founders, and more.
Attendees can look forward to learning how, in just five years, Adpearance has grown from a start-up to a powerhouse, providing a full range of digital services, including web design and development, digital advertising, public relations, social media strategy and management, search engine optimization, and custom analytics, among many others.
The open house will double as a networking event for students and industry professionals, with a friendly ping pong tournament kicking off the evening at 4 p.m. An introduction to Adpearance begins at 4:30 p.m., with refreshments and informational sessions to follow. As the evening comes to a close, Adpearance's fearless leaders will participate in an interactive Q&A session, so get your Twitter accounts ready!
Start the weekend with the Nerdherd examining the beauty in data and exploring just how amazing the marketing industry really is.
Please RSVP on Adpearance's Facebook or by emailing Laura Atwell at laura.atwell(at)adpearance(dot)com, and don't forget to follow Adpearance on Twitter and Instagram @adpearance, and chat with us using the official event hashtag, #MeetAdpearance.
About Adpearance, Inc.
Adpearance, Inc. is a Portland-based digital marketing agency specializing in paid search, search engine optimization, local search, social media marketing, email marketing and web site design and development. Our philosophy is simple: use customized data metrics to inform marketing decisions for the most return on investment for our clients. By engaging consumers and compelling them to act, we can guarantee results. For more information, visit http://www.adpearance.com.