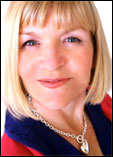 "Becoming desired, cherished and adored by a man is a matter of skill--not luck."
Newport Beach, CA (PRWEB) March 28, 2014
Leading relationship and marriage expert, Laura Doyle, launched her Intimacy and Peace Program for Wives and Girlfriends at http://intimacyandpeace.com/enroll. This exclusive program helps every woman turn her relationship into a passionate, committed partnership for life.
Intimacy and Peace Program members will learn Laura's proven intimacy skills that have transformed the relationships of over 50,000 women around the world. Laura offers her personal expertise, simple how-to skills, and over 15 years of leading insight in this new virtual training.
Women will learn how to end conflict in their relationships, build their confidence, make time for pleasure and fun, accept gifts from their husbands and boyfriends, and transform their relationships into intimate, playful partnerships that last a lifetime.
Laura designed this program so that every woman—no matter how broken her relationship may be—can master the skills needed to create her ideal partnership with her man.
"Women often feel like they must fix their relationships by themselves, but they need to know that they're not alone. That's why I created the Intimacy and Peace Program. I want women to gain the support, encouragement, confidence, and tools they need to create the fairytale relationships they've always wanted—and their dream is a lot closer to them than they realize," Laura explains.
Laura's comprehensive program offers eight in-depth training modules, live Q&A sessions, e-workbooks and exercises, and ongoing access to all of the training components to help participants create lasting peace, love, and desire in their relationships and marriages.
All interested women are encouraged to register. Prospective participants should go to http://intimacyandpeace.com/enroll for more details and program registration.
# # #
For more information about Laura Doyle and the Intimacy and Peace Program for Wives and Girlfriends, please call Kathy at (949) 729-9843 or email Kathy(at)LauraDoyle(dot)org.