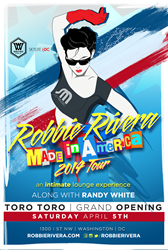 "One good thing about music, when it hits you, you feel no pain." - Bob Marley
Washington, D.C. (PRWEB) April 02, 2014
Toro Toro is a very upscale, trendy, and modern lounge that boasts a rustic and sophisticated feel. With a concept innate with exquisite taste and global vision, Toro Toro Lounge is a destination for sophisticated individuals that have an affinity for music and a taste for the finer things.
The grand opening will feature an intimate lounge experience with globally renowned house music producer/DJ Robbie Rivera, one of the most prolific producer/DJ's in electronic dance music. He has an extensive catalog of original productions and remixes to his credit that date back to the late 90's, not to mention quite a few appearances on the Billboard chart.
Tickets for the Grand Opening can be purchased here.
Skylite DC is the host for the evening and an entity of Richard Sandoval that oversees all late night logistics, operations, events, promotions, and productions on a weekly basis. Toro Toro is the latest addition to the repertoire of venues with with its own unique brand of events.
For more information, please contact;
daniel(at)skylitedc(dot)com
804.402.5886.
http://www.facebook.com/skylitedc
http://www.skylitedc.com