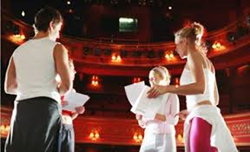 A showcase, through a trusted educational institution, is the best way to introduce your child to casting directors and talent agencies.
Santa Ana, CA (PRWEB) March 27, 2014
Students in the Kids and Teens Acting Classes at The Actor's Studio of Orange County have a unique opportunity ahead of them. They will share their talents in a public showcase, due to take place at the studio in Santa Ana in late May. Starting this April, they will begin their preparation for it in their weekly classes. The studio is still accepting new students who would like to take advantage of this special opportunity to present their work to the community, their families, friends, and entertainment industry from both Orange County and Los Angeles.
There are many reasons for presenting this showcase. A top priority for the school is to prepare its students for the industry. Owner and head teacher of the school, Sonya Cooke, wants the students to understand that application is a necessary component of their acting training. Michelle Hernandez, the Teen Acting instructor, says, "The Teens Class has worked hard toward a strong foundation of authenticity through technique. The next step is to add exposure to the industry." Cooke adds, "A showcase, through a trusted educational institution, is the best way to introduce your child to casting directors and talent agencies." Nasi Nassiri, who teaches the Kids Acting Class, says, "The children will have the opportunity to have fun and explore their passion by applying it to a performance." The possibilities of how this showcase can further the students' careers are exciting. Students and their families will get to network and build professional relationships, which only incentivizes the students further. To Cooke, it is very important that ASoOC actors cultivate not only goals but also the discipline to achieve them; therefore, by preparing for and presenting the showcase, the kids and teens will take all their talents and learn how to make the most of them.
The ASoOC's Youth Acting Program is a unique curriculum that emphasizes personal transformation through acting technique. The Teen Acting Class, in particular, is modeled on the curriculum for the adults, holding them to a higher standard and encouraging them to grow creatively into adulthood. The Kids Acting Class emphasizes Disciplined Creativity and Expression. "Acting is the Great Organizer," Cooke says, "It gives reserved kids a voice to express themselves and more exuberant kids a structure to hone their creative energies." Classes take place on Saturdays; kids meet from 10-12pm and teens meet 12-2pm at the studio in Santa Ana, CA. Classes are on-going, and exact details for the showcase will soon be available on the website: http://www.asooc.com. To audit, enroll or learn more, please contact info(at)asooc(dot)com or call 866-519-6559.