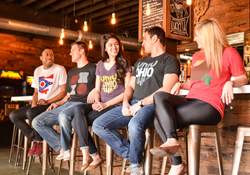 Every shirt is made with respect, originality and a little flair. - Andrew VanderLind, Where I'm From Co-founder
Columbus, Ohio (PRWEB) March 28, 2014
New, Ohio-based apparel company, Where I'm From, is set to launch its first ever t-shirt line on March 28th. The t-shirts feature fun and unique designs that show-off where you're from. The new line of shirts will be available online at http://www.whereimfrom.com and in Simply Vague stores in Polaris and Tuttle malls as well as in the new Devoted store near Ohio State University's campus.
Where I'm From celebrates the places that shaped you into who you are today. Each shirt is produced with the highest quality materials and attention to detail. Everything down to the hangtags and packaging is done with care.
"Every shirt is made with respect, originality and a little flair," said co-founder Andrew VanderLind. "Where I'm From provides a fashionable way for people to show their allegiance while wearing exceptionally comfortable clothing."
The company's first line is made up of an array of unique and stylish designs. Highlights include the Ohio State Flag in the shape of Ohio, a "Buckeye Ohio" design were the state of Ohio is made to look like the state nut, and an fresh play on the popular O-H-I-O.
Where I'm From was started by college roommates and long time friends Andrew VanderLind and Ryan Napier. These native Ohioans are graduates of Ohio University and share a deep sense of pride for the state they call home. The two also own a social media application and a cancer awareness apparel company together.
"We both love Ohio and are very loyal, which is something most Ohioans share. Despite the rough winters, people form our state are the some of most devoted in the nation," said Napier.
Where I'm From is an apparel company, founded in Columbus, OH, that specializes in producing high quality t-shirts with fun, appealing graphics that represent everything about the places where you're from.