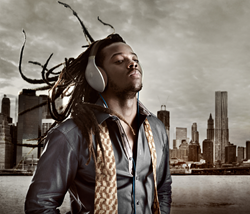 Morgan Hill, CA (PRWEB) March 31, 2014
What better way to celebrate spring than through a gathering of artists in support of organizations helping those in need?
That's the mission of the second annual Art on the Coast (http://artonthecoast.com/), a music and art festival in the Northern California coastal towns of Pacifica and Half Moon Bay. Art on the Coast raises funds for, and awareness of, local organizations that inspire hope and enhance the quality of life in disadvantaged communities in the area.
Audio pioneer Velodyne Acoustics (http://www.velodyne.com) today announced that the company has signed on as a sponsor of the event, donating headphones for a silent auction to be held on Friday, April 25, from 6:30 p.m. - 10:30 p.m., at the Kohrs Family Center at Seacrest School (http://www.seacrestschool.org), 901 Arnold Way, Half Moon Bay. Velodyne's contribution consists of a vTrue model (MSRP of $399); two pair of vBold headphones, one silver, one black (MSRP of $349 each); two vFree headphones (MSRP of $299 each) – again, one silver and one black; and one pair of vQuiet noise-cancelling headphones (MSRP of $299).
"Art on the Coast is a terrific event and a great cause," said Marta Hall, president, Velodyne. "Participating artists will sign the headphones we donate to the silent auction. As the organization says, Art on the Coast exists to identify and meet the needs of our impoverished neighbors – to fill the gaps that prevent those in need from gaining independent lives once again. We're absolutely delighted to be able to help."
This year's Art on the Coast will feature musicians Nate Currin, Curt Yagi and Dom Liberati. Having been featured on MTV multiple times, Currin received a first ballot Grammy nomination and has toured with many notable acts including Blues Traveler, Butch Walker and Neon Trees. Yagi, voted the SF Bay Guardian's 2008 Best of the Bay Singer Songwriter, had his song "Sweep Me" included on the very popular KFOG Local Scene 8 CD in the Bay Area, and is also the director of Real Options for City Kids (ROCK). Liberati delivers bass-driven anthem rock with an earnest, aggressive and fresh approach. His infectious, stadium-sized hooks are reinforced by sharp, jangly guitars and pocket-heavy grooves.
Art on the Coast (AOTC) was founded in late 2012, with the aim of bringing the coastal communities together by using music and art for the sole purpose of raising money for local resource centers and thereby providing relief for those in need. By featuring major musical acts and showcasing Bay Area visual artists, the inaugural Art on the Coast Festival – which took place in January 2013 -- was able to raise thousands of dollars for Coastside Hope (http://www.coastsidehope.org/) and the Pacifica Resource Center (http://pacresourcecenter.org/).
Supplying food, clothing, housing assistance and support, Coastside Hope's mission is to help neighbors meet their most basic needs. Each year, the organization touches the lives of more than 3,000 people, including some 900 children. The Pacifica Resource Center (PRC), a project of the Tides Center, seeks to help stabilize Pacifica families and individuals by providing a safety net of food, housing assistance, and other critical services along with advocacy, coaching, information, and referral.
For more information on Art on the Coast, call (650) 771-4485.
About Velodyne
Founded in 1983 and based in California's Silicon Valley, Velodyne, Inc. is a diversified technology company known worldwide for its high-performance audio equipment and real-time LiDAR sensors. The company is widely recognized as the leading manufacturer of high-performance, low-distortion, powered subwoofers and an expanding line of technically innovative in-ear and over-ear audio products, which include interchangeable, custom-designed skins that enable audiophiles to personalize the look of their headphones. Velodyne products are available online at http://www.velodyne.com and from a select group of authorized dealers, custom installers and distributors worldwide. Since 2007, Velodyne's LiDAR division has emerged as a leading developer, manufacturer and supplier of real-time LiDAR sensor technology used in a variety of commercial applications including autonomous vehicles, vehicle safety systems, 3D mobile mapping, 3D aerial mapping and security. For more information, visit http://www.velodynelidar.com. For the latest information on new products and to receive Velodyne's newsletter, register here.