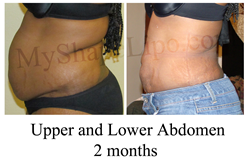 It's really amazing the difference that we can make in just a few hours.
(PRWEB) March 29, 2014
Modern liposuction is gaining in popularity as the procedure becomes safer and the recovery gets shorter and easier. With new techniques, smaller instruments and lower costs, many women are choosing liposuction to get back their sexy curves. Quicker recoveries are making it much easier for people to get the procedure and get back to their normal life.
At MyShape Lipo of Las Vegas, patients fly in from around the world to take advantage of their affordable prices, extensive experience and proven track record of high quality, consistent results. Trevor Schmidt PA-C, their liposuction specialist has the experience of over 15,000 liposuction procedures on all ages, shapes and sizes.
"We treat many individuals with liposuction and can remove large volumes of fat to make big dramatic changes," says Schmidt. "It's really quite amazing - the difference that we can make in just a few hours."
Getting thinner has never been easier than it is these days. Liposuction can permanently removal large volumes of fat form nearly any part of the body. In comparison to the traditional diet and exercise, the fat will not come back after it is removed with liposuction. With dieting, the fat cells simply shrink and get smaller, but they remain in the body and can potentially get bigger if your diet changes. This is why people fluctuate in weight regularly.
Removing the fat with liposuction does not only result in a trimmer figure today, but it also makes it much easier to maintain that figure permanently since there are less fat cells in the area treated. With the fat cells removed from the area, it is very difficult to gain weight in the treated area since there is a reduced number of fat cells.
"I had liposuction to my abdomen 6 years ago and it has made it so much easier to keep a flat abdomen and skinny waist," says Donna a liposuction patient. "I used to ride that weight roller coaster and go up and down each month. Now, it's so much easier to stay in shape and look the way that I want."
For those that are tired of working so hard to achieve the shape of their dreams, liposuction can help to give them the permanent changes that they are looking for. A simple 2 hour procedure is all it takes. Per statistics kept at MyShape Lipo, 84.2% of patients return to work within 3 days of their procedure.
About MyShape Lipo:
MyShape Lipo is a specialty liposuction clinic located in Las Vegas, NV, where 70% of their patients fly in for their procedure to take advantage of the affordable prices and extensive experience. Trevor Schmidt PA-C, the Liposuction Specialist has personally performed well over 15,000 liposuction procedures. They offer complimentary Body Shape Analysis, simply call 702-818-5476.