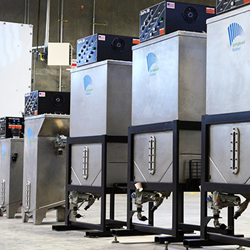 "Now, more than ever, farmers are looking for ways to make fuel, domestically, for less money..."
Chico, CA. (PRWEB) April 01, 2014
Biodiesel equipment manufacturer Springboard Biodiesel has selected the Center for Sustainable Energy Farming (CfSEF), a Torrance, California-based nonprofit research organization, to receive its industry-leading biodiesel processor as a charitable donation.
The processor, a BioPro™ 380, is an appliance that converts a wide variety of vegetable and animal oils into premium-grade biodiesel. This fully automated biodiesel processor is capable of producing 100 gallons (or 380 liters) of biofuel every 48 hours.
Springboard's CEO, Mark Roberts, said in a statement: "We are impressed by the research that CfSEF is doing into alternative non-food-based seed crops that can be economically grown and converted into renewable fuels. We are hopeful their research, specifically with Camelina and Jatropha, will be enhanced by Springboard Biodiesel's equipment and that American farmers will continue to benefit from their findings." He added, "Now, more than ever, farmers are looking for ways to make fuel, domestically, for less money. Our growing base of farmers is currently benefiting both economically and environmentally from the ability to make cleaner-burning biodiesel fuel. CfSEF's ongoing efforts to develop additional lower-cost feedstocks will further support this option."
"The Center is very pleased to receive this donation from Springboard Biodiesel," says CfSEF's President & CEO, Richard Palmer. "We are planning to use this equipment to demonstrate the effectiveness of local farmers growing, processing and utilizing biodiesel on their own farms. This unit has the potential to help farmers achieve true sustainability by eliminating their need for diesel fuel to power their farming equipment. They can grow their own non-food-based energy crops, such as Camelina sativa and Jatropha curcas, and process it on-farm for their own use."
About Springboard Biodiesel:
Springboard Biodiesel is a biodiesel solutions company that manufactures processors, dry-wash systems, glycerin demethylators, methanol purifiers, and other ancillary equipment used in the small-scale production of biodiesel from vegetable and animal oils. They are best-known for their award-winning BioPro™ processors that are currently in operation in 18 countries and in all 50 states.
About the Center for Sustainable Energy Farming
The Center is a non-profit, 501(c)(3) research organization whose primary mission is to engage, directly and through universities and third party scientific research institutions, in the research and development of renewable energy sources and technologies. Renewable energy farming serves many public benefits for the U.S. and other regions, including supplying a significant proportion of the United States' and other countries' energy needs, environmental improvements, increased fuel diversity and national security, improved human health and regional economic development benefits. The Center's secondary mission is to provide education on the methods and techniques of operating alternative energy farms for the benefit of farmers and current and future farm employees, all of which support local economies.
Media contact:
Matt Roberts. VP Marketing. Springboard Biodiesel
Email: matt(at)springboardbiodiesel(dot)com
Phone: 530 894 1793
Jerry Feitelson, Ph.D. Chief Scientific Officer. Center for Sustainable Energy Farming
Email: jfeitelson(at)cfsef(dot)org
Tel: 858-349-3603