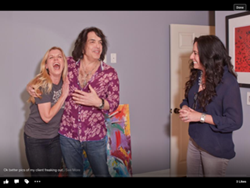 Wanda went above and beyond by getting a custom painting from Paul Stanley delivered personally by Paul to her client.
Los Angeles, CA (PRWEB) March 29, 2014
Kim Kapellusch, Founder and President of Style My Space is honored to announce that Style My Space, Chief Designer, Wanda Colon was awarded the contract to design the home of Josh and Dawn Pillion in the Hollywood Hills. Wanda joined Style My Space after spending 5 years as a design host on HGTV.
Dawn and Josh are fans Rock n' Roll legend Paul Stanley. Paul is best known as the rhythm guitarist and co-lead vocalist/front man for the rock band Kiss. He is also an artist and Dawn wanted to acquire a piece of his art to incorporate into the plan. Wanda was able to connect with Paul and purchase a piece of his art that Dawn loved. She surprised the couple not only by acquiring the perfect piece of Paul Stanley art – but she also was able to have Paul personally deliver the piece surprising the couple.
"We hired Wanda to decorate our new home. After our initial consultation, Wanda's ideas were right on the money - from my husband's office to my "rock n roll" room, everything turned out fantastic. She really listened to what we wanted and did a great job keeping us in the loop on selections and budget.
Wanda definitely went above and beyond our expectations. She arranged delivery of a painting done from one of my rock icons Paul Stanley!!! The piece is amazing and was so thrilled that Paul was kind enough to make my day. It just doesn't get ANY better than that-I was completely shocked. Style My Space rocks!" stated Dawn Pillion
Dawn and Josh hired Wanda to do a complete re-do on their Hollywood Hills home. Wanda was responsible for selecting all new furnishings for their entire home. New lighting and paint colors throughout the house. Wanda was also entrusted with building Dawn a 'Rock N Roll' room to display all her memorabilia and the Paul Stanley original painting. The exterior was redone by a landscaper Wanda brought to the job. In total this was a $225,000 project awarded to Style My Space.
Style my Space offers a multitude of services, from Staging Consults (where owners do the work themselves), to Redesign (using the owners own furniture and accessories) to vacant staging. Kim does quite a lot of vacant staging's for contractors and flippers. The business has grown to where about 80% of her business is vacant staging. As this part of the business grew so rapidly Kim now owns a warehouse of her own furniture, rugs, artwork and accessories.
For more information please call Kim Kapellusch at– 818-726-6429 or visit the website at https://www.facebook.com/StyleMySpace1
ABOUT STYLE MY SPACE was developed in 2005 by Kim Kapellusch. It has grown every year, even through the downturn in the real estate market. As Style My Space grew, Kim's team grew as well as her inventory. Today Kim has 3 people on the staging team and 2 on her Interior Design Team. She has inventory in her warehouse that will allow her to stage up to 40+ houses with her own inventory, lowering the cost to clients.