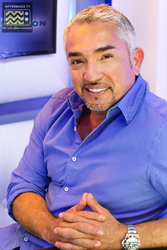 Hollywood, CA (PRWEB) March 28, 2014
"Famed animal behaviorist" Cesar Millan, star of the new Nat Geo Wilds series Cesar 911 sat down with AfterBuzz TV's "Spotlight On" and discussed what to expect on his new series. "I want to focus on the human. You have seen me rehabilitate the dog, but never the human. I want to show the world that we need to take responsibility for ourselves."
Millan, whose previous show "The Dog Whisperer" was a huge success, discussed why he thought fans related to his techniques. "In the beginning, they didn't know what to make of me. You know what I mean? It was something new. What do you mean a guy who rehabilitates dogs and he's Mexican. It's unusual, but I guess they like the way I came across. They loved the transformations. I used a lot of common sense and everything I've used, you can successfully prove it."
During the interview, he also expressed his thoughts on why he uses pit bulls in his dog rehabilitation training. "Right now, pit bulls are the breed that people are afraid of the most, so I made the pit my right hand. A Mexican and a pit bull are transferring, changing and sharing. The pit had a bad reputation. I can relate, because I have also gone through that experience."
On his next endeavor, Millan said "I want to open dog psychology centers in each state. A place where you come learn about dogs. You learn what kind of dog energy is compatible to your family. That will prevent household fights and blaming breeds."
Links to Cesar Millan's appearance on AfterBuzz TV's "Spotlight On" can be found at:
Website: http://site.afterbuzztv.com/shows/cesar-millan-interview-afterbuzz-tvs-spotlight-on/
You Tube: https://www.youtube.com/watch?v=7NqgxfyTqRM
iTunes: https://itunes.apple.com/us/podcast/afterbuzz-tvs-spotlight-on/id818919832?mt=2
ABOUT AFTERBUZZ TV:
AfterBuzz TV is dedicated to producing expanded TV content including daily post-game wrap-up shows for fan's favorite TV shows, covering shows like The Bachelorette, Real Housewives' franchises, WWE's Monday Night Raw and countless others. Currently AfterBuzz TV receives over 26 million weekly downloads on iTunes from over 100 countries. For further information about the network, visit afterbuzztv.com. Afterbuzz TV's "Spotlight On" is a long form, in-depth interview series featuring television stars and personalities.