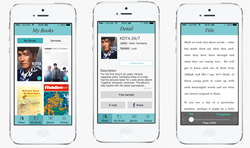 Tokyo, Japan (PRWEB) April 14, 2014
Enigmo, Inc. is pleased to announce the public launch of Buyma Books, a new platform service which translates books into different languages. The final product comes in the form of an e-book. While using Buyma Books, the user has the capability of choosing which languages they would like their books translated, as well as the capability to choose which countries they would like to sell their book.
The author's writings are translated by the registered interpreters of Buyma Books in their native languages. Several hundreds of interpreters are already registered and are actively participating in the translation service. Translated products are converted to electronic book files and are distributed through the original platform of Buyma Books. Readers can read the books through their application-downloaded smart phones or their tablet/personal computer.
Buyma Books is aiming to distribute global products; however, the company will begin by distributing Japanese books and products translated in English and Chinese. By gathering marketing know-hows regionally, "Buyma Books" will eventually expand the distribution areas and languages globally.
Additional perks of Buyma Books include the ability to read free samples and the capability to read books which the client has purchased. Books can be labeled as "highlights" so that the reader can easily select the books in his or her reading queue. Buyma Books also features adjustable font sizes and changeable background colors so the client can customize their books to be read in any way they choose.
The free samples are available for download from the "Detail Information" page. Users can also send the information of the book by e-mail. They can also upload the information on Facebook.
The publishers and authors can register their products on the Buyma Books website.
The iPhone application, "Buyma Books" is compatible with the iPhone and the iPod touch with the iOS7 operating system or higher. The application can be found at Apple's free app store, and will be released shortly: https://itunes.apple.com/us/app/buyma-books/id838805624
For publishers, authors and interpreters:
Buyma Books is waiting for registration from publishers and authors who wish to have their writings translated and/or distributed overseas. The company is also searching for interpreters who are considering developing their careers. Enigmo, Inc. is currently receiving applications from people who create products such as business, non-fiction, picture books, artist content, blogs, and columns.
About Buyma Books (http://www.buymabooks.com)
Buyma Books is a brand new type of platform service which enables the translation of books worldwide using crowd sourcing and distribution in the form of an E-Book. Based on the global network and expertise in social services from Buyma, Enigmo will provide a fresh reading experience for all who choose to use the service.
About Enigmo Inc.
Established on the 10th of February, 2004, Enigmo, Inc. is an internet service provider, planner, and developer which has developed several businesses, to include Corseka, an online magazine store with a built in viewing platform in October 2009, ShareMo, a social sharing service in January 2008, and BUYMA, a social shopping website developed in February 2005, among many other successful internet platforms. Enigmo aims for success in its latest development, Buyma Books. The CEO of the company is Shokei Suda.