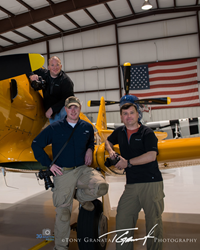 Minimizing the instructor to student ratio, we are able to concentrate on providing one-on-one instruction helping attendees apply what they have learned in the classroom as well as develop their own technique.
Peachtree City, Georgia (PRWEB) April 10, 2014
After a successful 2013 fall and winter workshop season, 3G Aviation Media is conducting the final preparations prior to announcing their photography workshop schedule for the fall of 2014. Previous workshops at the Commemorative Air Force – Dixie Wing in Peachtree City, Georgia, and at Stallion 51 Flight Operations in Kissimmee, Florida have laid the groundwork for 3G Aviation Media to return to these flight facilities and conduct a new series of workshops starting in September 2014.
3G Aviation Media has teamed up with these aviation organizations in order to provide stunning collections of vintage aircraft to photograph, but also to provide a unique opportunity for photographers eager to develop their current skill set. With this last topic in mind, 3G Aviation Media workshops concentrate on teaching photographers the organizational skills to set up a dramatic photo shoot, along with the technical skills to capture, edit and craft spectacular images of classic aircraft. The three "G"s of 3G Aviation Media, Tony Granata, Doug Glover, and Matt Genuardi, each bring to the workshop series their various areas of expertise in photographing aircraft.
The planned dates for the fall 2014 series of workshops are 26-28 September, 24-26 October and 14-16 November. 3G Aviation Media is still in final negotiations with several venues to determine aircraft availability and workshop support requirements before a detailed announcement will be made as to the location that each of the workshops are being conducted at. To this end, the 3G team has been in discussion with a variety of aircraft collections and aviation museums in order to bring the best in photography venues to workshop attendees. Tony sums it up this way: "We research and select venues based upon a variety of criteria, but first and foremost is the dual requirement of a unique aircraft collection, matched with the flexibility to create a wide variety of shooting setups. Along with those primary concerns, we look at the proximity of major airports to make it easy for attendees to travel, and the location's ability to support instruction on different aspects of photography techniques."
As the photographic instruction is at the core of the workshop's offering to prospective attendees, the 3G Aviation Media team has been working to refine the already successful content and format in preparation for the fall. "We have taken a hard look at the class lineup in order to give ourselves more time for each of the individual class topics, without trying to throw too much at the attendees. We are collecting feedback from past attendees to focus on the most requested topics, refine the workshop timeline, and remove any classes that were not of value to our customers," says Matt.
By concentrating on value to the customer, the individual photographer, the 3G team believes that their workshop stands apart from similar offerings. "Minimizing the instructor to student ratio, we are able to concentrate on providing one-on-one instruction helping attendees apply what they have learned in the classroom as well as develop their own technique." The 3G instructors also rarely shoot a great deal of photographs during the workshop. "When we do take photographs during our sessions, they are either to demonstrate a photographic technique to the attendees, or to document a layout for a behind the scenes discussion after the day's shooting is done," says Doug.
But the excitement of the workshop does not end with just photographing the aircraft. The 3G Aviation Media team works with aircraft owners to facilitate attendees' ability to fly in the vintage aircraft that are part of the photography session. "One of the best 'side offerings' for our attendees is an opportunity to schedule and pay for a flight in the aircraft that they will spend the week photographing. We discuss how important it is for the photographers to learn about the subject aircraft, and what better way than for them to spend a half hour or more, airborne, in that airframe."
Aircraft collections or individual owners who are interested in working with 3G Aviation Media to host an event in the future should contact the team's logistics planner, Doug Glover at the following email: workshops(at)3gaviationmedia(dot)com. Photographers interested in finding out more about the workshops, or for signing up for a specific date should visit the 3G website at: http://3gaviationmedia.com/workshop/.
3G Aviation Media is a joint venture between a group of aviation photographers who wanted to partner for specific projects while still retaining their own brand and artistic identity. - Tony Granata, Matt Genuardi and Doug Glover. With the a mantra of "Learn, Plan, Execute, Develop", the 3G team brings a disciplined, one-on-one approach that is focused on the workshop attendee, providing maximum growth over a short, focused period of instruction.