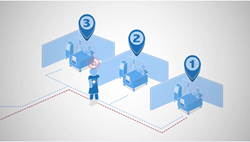 Managing alarm fatigue is the most pressing issue facing acute healthcare facilities today.
Wilmington, DE (PRWEB) March 31, 2014
One of the most significant and pressing issues in today's acute health care scene is that of alarm management. Patients are often connected to several medical devices which can alert clinicians and caregivers to hundreds of alarms per patient, per day. These devices are of huge importance to patient safety. These alerts and alarms can make the difference between timely and lifesaving interventions, or serious injury and death.
Despite the importance of these alarms, it is estimated that anywhere between 85-99% of these alarms do not require any clinical intervention. This excessive amount of alarms, particularly with so many of no clinical significance, may cause clinicians to become desensitised, overwhelmed or immune to the sound of alarms. This 'alarm fatigue' has resulted in clinicians resorting to unsafe practices to reduce the number of alarms they are alerted to. This is a dangerous practice, with the US Food and Drug Administration's (FDA) Manufacturer and User Facility Device Experience (MAUDE) database reporting 566 alarm related deaths between January 2005 and June 2010. Industry experts consider this figure to significantly underrepresent the actual number of incidents.
The Joint Commission has announced alarm management as their 2014 National Patient Safety Goal. The issue also appeared at the top of the list of the "Top 10 Health Technology Hazards" for the year, in a list developed by the ECRI Institute. Since 2007 the ECRI Institute has reported on the dangers of alarm systems, with this hazard consistently appearing as one of the top risks. Both organisations have implemented procedures, initiatives and goals to mitigate the risks associated with alarm fatigue.
CarePlus™ integration to Smartphones and devices with Mobile Connect allows for more advanced alarm management. Alarms and messages no longer need to be broadcast as they are sent directly to the assigned clinician. This reduces alarm fatigue by ensuring that caregivers are only alerted to relevant alarms. More details on how CarePlus can improve alarm management and reduce alarm fatigue can be found at http://www.careplus-niqhealth.com/careplus-solve-major-healthcare-issues-today.html.
NiQ Health's CarePlus™ significantly improves the workflow and efficiency of clinicians and caregivers while simultaneously combatting growing concerns within the healthcare environment, a demonstration of these capabilities can be viewed here. CarePlus™ can be considered "middleware in a box" integrating smartphones, paging, wireless and VOIP telephony, ward signs, large screen information boards, email, PDAs, patient entertainment terminals, duress systems and Building Management Systems (BMS). CarePlus™ provides extensive reporting and Business Intelligence software capabilities providing significant workflow productivity efficiencies and improved patient safety. More information can be found at http://www.careplus-niqhealth.com.