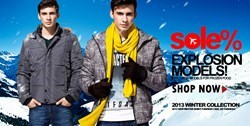 (PRWEB) March 29, 2014
Recently, Skmen.com, the popular supplier of men's and women's clothes, has announced its new designs of long sweater dresses. All these sweater outfits are provided at discounted prices, up to 25% off. In addition, the company is also offering big savings on its other products like midi bodycon dresses, business casual dresses and sexy spring dresses.
The sales representative of the company says that the long sweater outfits from Skmen.com are warmly welcomed in the international market. A lot of them are popular for superb quality and competitive prices. So far, more than 200 items have been ordered by its new and old clients and a lot of them have shown great appreciation.
Indeed, Skmen.com has a team of professional designers. All its members are working hard to keep pace with the latest fashion trends. That is why the company's products are always chic and fashionable. What's more, all of them are made with expensive soft materials.
Along with top quality clothes for women, the company also offers many trendy items for worldwide gentlemen. All its clothes are made according to fashion trends and the latest requirements of worldwide customers. Its major officials consider for every client, including those who short, plump and picky.
About Skmen.com
Skmen.com, a China-based company founded in 2009, is one of the leading suppliers of men's and women's high quality clothes. It has more than 5000 customers from every part of the world; it hopes to help worldwide stylish ladies and gentlemen. For more detailed information about the company and its wonderful items, readers can visit http://www.skmen.com/product-sweater-dresses-003004008.aspx.