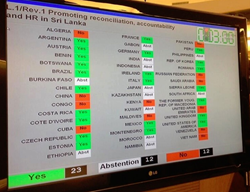 This is a positive step in the history of Tamils. We need to have a record of the terrible things that happened to the Tamils so that these events will never be forgotten. We want the whole world to know, not just the Tamils who can remember these events
New York, New York (PRWEB) March 29, 2014
"The US has been working on this for a long time," said the press spokesman for Tamils for Obama. "Without the leadership and determination of the president, we are sure that this resolution would never have been raised and passed. We are grateful, and we thank him."
In a letter to President Obama, Tamils for Obama thanked President Obama for his determination and success in getting an international inquiry into allegations of major human rights violations in Sri Lanka passed by the United Nations Human Rights Commission (UNHRC). Forty-one countries co-sponsored the US-led resolution, which was also supported by the International Crisis Group (ICG), Human Rights Watch (HRW), Amnesty International (AI) and UK Channel 4 News.
The resolution passed by a vote of 23 to 12, with 12 abstentions.
"This is a positive step in the history of Tamils in Sri Lanka," said the spokesman. "We need to have a record of the terrible things that happened to the Tamils so that these events will never be forgotten. We want the whole world to know, not just the Tamils who can remember these events.
In the letter to the president, Tamils for Obama also wrote "We also think that a referendum among the Tamils in the northeast of Sri Lanka and Sri Lankan Tamils displaced by the war is a necessary next step in resolving the issues that plague Sri Lanka. We hope that you will continue to direct your attention and concern to this matter."
The 41 countries that co-sponsored the resolutions are:
Albania, Austria, Belgium, Bulgaria, Canada, Croatia, Cyprus, Denmark, Estonia, Finland, France, Georgia, Germany, Greece, Hungary, Iceland, Ireland, Italy, Latvia, Liechtenstein, Lithuania, Luxembourg, Mauritius, Montenegro, Netherlands, Norway, Poland, Portugal, Romania, Saint Kitts and Nevis, Sierra Leone, Slovakia, Spain, Sweden, Switzerland, the former Yugoslav Republic of Macedonia, United Kingdom of Great Britain and Northern Ireland, and the United States of America.
The 23 countries that supported the resolutions are:
Argentina, Austria, Benin, Botswana, Brazil, Chile, Costa Rica, Ivory Coast, Czech Republic, Estonia, France, Germany, Ireland, Italy, Mexico, Montenegro, Peru, South Korea, Rumania, Sierra Leone, Macedonia, United Kingdom, and USA. We thank them all.
Tamils for Obama is a politically active group of Tamil Americans. They believe that over 70,000 Tamil civilians were massacred during the last weeks of the Sri Lankan ethnic war. They have also watched the behavior of the Sri Lankan Singhalese victors after the war, and strongly conclude that Tamils in Sri Lanka will only be safe when this unfortunate island is divided into two states.
To contact the group, call at (516) 308-2645 and speak to, or leave a message for, the Communication Director, Tamils for Obama.
http://www.TamilsForObama.com
Email: info(at)TamilsforObama(dot)com