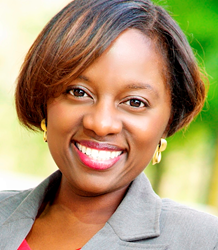 Angela Ray is simply amazing. Thrilled to collaborate with her and looking forward to continuing this creative relationship
Atlanta, GA (PRWEB) March 28, 2014
Angela Ray has teamed up with writer and award-winning director Nathan Ross Freeman to co-produce his third feature film, The Other Way Around. Principal photography is scheduled to begin on May 16th in Philadelphia.
The Other Way Around stars Wendy Pearson-Bautista and Don W. Newton, two theatre professionals with over forty years of combined acting experience. Also, making his film debut is Michael Dorsey, from the hit television show, The Biggest Loser. No stranger to being in front of the camera, Dorsey has also appeared on NBC's The Today Show and Access Hollywood.
The film tells the story of Edmund and Simone who have been married for 30 years. Almost. In 5 days from the start of the film, Edmund secretly shops for wedding rings. He is going to surprise his wife, Simone, on their 30th Anniversary. On bended knees he will ask to renew their vows. At the same time, the same moment, Simone is across town secretly having divorce papers handed to her. She will surprise Edmund with 'serve' of these divorce papers after dessert, with wine, on their anniversary. The dramatic comedy explores the depths of true love.
Ray is excited to be working with Freeman again. "I am honored that Nathan asked me to be a part of this project. We have had a mutual respect for each other for so many years and I am happy that we are teaming up on this film."
The two met over a decade ago in a playwrighting class. Later, Ray went on to understudy a role for Freeman's play, Hannah Elias. In 2009, as the co-chair of the Hayti Heritage Film Festival, the two teamed up again.
"Angela Ray is simply amazing. Thrilled to collaborate with her and looking forward to continuing this creative relationship, " Freeman said.
Freeman's first feature, Mr. Bones was the winner of five First Place film festival awards to include Best Feature, 2009 Philadelphia Film Festival ~ Distinguished Film, 2009 Santa Barbara African American Film Series ~ Closing Ceremony Film, 2009 Cine Noir, Festival of Black Films, Wilmington NC, ~ Best Feature, 2007 Sweet Auburn International Film Festival, Atlanta, GA ~ Best Drama, 2007 Southern Appalachian International Film Festival. Freeman later co-produced the Feature Documentary, Authoring Action which also won several awards.
Ray is no stranger to working behind the scenes. For two years, she co-chaired the Hayti Heritage Film Festival. Under her leadership along with her co-chair Dilsey Davis, the festival expanded to four days, added an awards ceremony, and included networking events with the films screenings. She also produced eight years of the Mahogany Dime Awards, a ceremony that honors African American women who reside in North Carolina.
As co-producer, Ray is assisting with an aggressive crowdfunding campaign for the film. The team of producers have chosen Indiegogo for this endeavor. With only twenty days left, every moment is crucial and Ray is committed to making this film a success.
"I know we can make our goal," Ray said. "It's a lot of work, but what's the alternative? Actually, I'm not interested in the alternative."