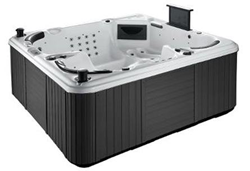 (PRWEB) March 31, 2014
Many consumers across the world have highlighted some key benefits of XC Spa's hot tubs, which are very popular on the market. Recently, XC Spa has announced its new collection of hot tubs.
The new collection includes many different designs. For example, its hot tub 812 is designed for 1 person to lie and 5 persons to sit inside while enjoying the massage and spa. The company has everything to ensure client satisfaction.
XC Spa is a popular company in the industry, and it specializes in the designing and manufacturing spa products like far infrared sauna, outdoor spa pools and more. The company has been bringing high quality sauna products to its global customers for over 8 years. People can always find what they need on this company's official website.
"Finding your ideal hot tub is not easy, but it can be much easier at our website. We have listed many popular hot tub models from our professional hot tub designers for you to search and compare in your quest to find the very best hot tubs on the market. Good customer service, high-quality, speedy delivery, and affordable prices, are the reasons that many customers choose XC." The CEO of the company says.
Moreover, XC Spa offer great discounts on all its products like far infrared sauna, outdoor spa pools, swim spa (http://www.xcspa.com/swim-spa/), etc.
About XC Spa
XC Spa is a ISO9001:2000 certified company offering a wide range of Spa products, especially hot tubs, outdoor spa and swimming spa tubs. The company's products go through a strict quality-control process, and they are resistant to weathering, warping and scoffing. Premium product quality and great customer service are the reason that their products are widely recognized by the customers worldwide.
For more information, please visit: http://www.xcspa.com/hot-tub/