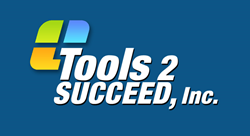 Organizations get the most return on investment from monthly, ongoing training.
Westlake Village, CA (PRWEB) March 28, 2014
Tools 2 Succeed brings monthly half-day Compass Series Leadership Workshops in-house to organizations in the greater Los Angeles area. The 15 workshop topics focus on skills for mid-level managers and supervisors, ranging from Supervisory Skills, Communication, and Team Building to Accountability and Conflict Management. The concept of a "high-performance organization" is taught and reinforced each month. Tools 2 Succeed defines a high-performance organization as "one in which all employees feel and act like partners in the business and are excited to contribute to its success."
The leadership training workshops emphasize skills rather than theory. Exercises, games, role-play and simulations let participants learn skills interactively. Participants are encouraged to create performance plans and share them with senior management. Concepts are reinforced in each workshop. Assignments allow participants to practice skills between leadership workshops.
Sheryl Tuchman, SPHR, Founder and CEO of Tools 2 Succeed said, "Organizations get the most return on investment from monthly, ongoing leadership training. With monthly training, supervisors and managers have a chance between sessions to practice the skills they learn, complete the workshop assignments, then come back next month to reinforce those skills and learn new ones. When more than one month goes by and participants get busy with their day-to-day jobs, the newly-learned skills often do not take priority. Ongoing reinforcement and practice is the key to success."
About Tools 2 Succeed, Inc.
Tools 2 Succeed provides business training, consulting, and coaching services to facilitate organizational growth and change. Services include onsite employee development training, leadership workshops, executive coaching, outplacement services, behavioral assessments, and an extensive offering of e-learning courses. We are a reseller of Skillsoft e-Learning and offer online courses ranging from leadership development to human resource management to project management. We offer Skillsoft courses for PMI PDUs. Tools 2 Succeed is an Approved Provider of the HR Certification Institute, offering low-cost programs for HRCI recertification credit. They also offer e-Learning courses for PHR (Professional in Human Resources) and SPHR (Senior Professional in Human Resources) certification preparation. Tools 2 Succeed is based in Southern California and serves clients in 42 countries including all 50 United States, the U.S. Virgin Islands and Puerto Rico.