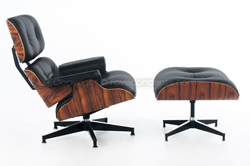 I am in awe of the quality of this chair. The quality is simply amazing and it is priced very reasonably for what you get. I couldn't be happier.
Vancouver, British Columbia (PRWEB) March 31, 2014
Rove Concepts was announced as one of the most searched for retailers of mid-century reproductions on the web. Much of this popularity can be attributed to the acclaim for the careful craftsmanship and materials of the Rove Concepts Eames Lounge Chairs Reproduction.
"I was lucky enough to see this chair in Vancouver during our visit to Whistler," says Reiko M., "I have sat on the original and infact [sic] visited a herman miller [sic] dealer here to do some first hand [sic] comparison. The Rove chair is so far above and beyond any reproduction I have seen."
The Rove Concepts Eames Chairs Reproductions are admired over other brands' for many reasons. First, they are constructed as a result of an exclusive manufacturing partnership, with the producers only creating furniture for Rove Concepts. After, the chairs are processed through two levels of quality control.
Eames Chairs' also impress others because of the leather upholstery. The pieces are customized in a wide variety of colors and oil finishes in genuine aniline leathers, all sourced from a tannery outside of Tuscany, Italy. The same leather also decorates all piping and buttons.
Sourcing and construction of the veneers are a priority for the retailer. The woods are First and Second-grade American Timbers, specifically cut to minimize the amount of knots. Sourced exclusively from the USA, Canada and Brazil. The veneers are finished with four coats of Italian lacquer to ensure a natural appearance and to prevent fading.
There are other details that separate Rove Concepts Eames Chairs from other companies' products. Decron silk covers PU-injected cushions for maximum comfort while properly placed rubber shock mounts increase flexibility. The rubber shock mounts are especially important because other retailers do not use correctly placed or quality mounts, making them much less comfortable. The chairs are accurate too. They are almost identical to the licensed versions, featuring removable cushions and cast base and back braces for a strong, ergonomic base. Conveniently, the chairs also arrive fully assembled.
"Eames Chair has an awesome look and feel to it," Vincenza Cuzick reviews, "It fits comfortably and has real leather. I am in awe of the quality of this chair. The quality is simply amazing and it is priced very reasonably for what you get. I couldn't be happier."