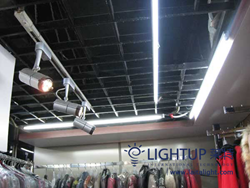 (PRWEB) March 28, 2014
LIGHTUP LED, a market leader in the LED light industry, today announced the completion of a big lighting project in a large clothing shopping mall. In the project, 10W LED track lights are dominantly used.
"We provide one-stop shopping experience to our customer, including lighting effect design, LED products, installation services and many professional tips. It took five days before all the work was finished. The customer is very satisfied with the lighting effects and what we have done." The sales manager of the company says.
LED track light is a new lighting model to display products and its commercial lighting effect has obviously better than other lamps. LIGHTUP LED's track lights range from 3W to 30W in power consumption, and the 10W light is most popular on the market.
The sales manager adds, "Our 10W LED track lights can help the business better display the dresses. The lighting effect is both brighter and power-efficient. As a market leader in LED lighting, we use cutting edge LED technology to make our lights great in performance and economy."
LED track lights are widely used in shopping malls, hotels, halls, clubs, villas, clothing stores and other places. The company has much confidence in its products, which can help users cut outsourcing expenses in power bills.
About LIGHTUP LED
LIGHTUP LED (Zhongshan Guzhen LIGHTUP International Technology Co., Ltd.) is located in Guzhen, the "Silicon Valley" of China's LED industry. The company specializes in the R&D and manufacturing all types of LED lights and related products which are environmentally-friendly. They focus on customer service and competitive pricing, which continues to attract more customers from all over the world.
For more information about the company's LED track lights, please visit: http://www.laitalight.com/Products/led-track-light.html.