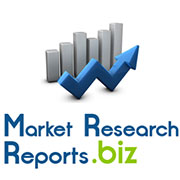 Conductive Ink Markets 2014-2024
(PRWEB) March 28, 2014
The conductive ink and paste business is a large market that will generate $2 billion in 2014 in revenue at the ink/paste level. This market however is segmented, consisting of many emerging and mature markets. Overall, the market will experience 3.2% CAGR over the coming decade, although growth will be unevenly spread with several target markets experiencing rapid growth while others decline. This represents both opportunities as well as risk for all market participants.
Browse Full Report With TOC: http://www.marketresearchreports.biz/analysis-details/conductive-ink-markets-2014-2024-forecasts-technologies-players.
At the same, emerging technologies and alternatives are improving fast too, increasingly becoming price and performance competitive with mature incumbents. This too, coupled with fluctuating base metal prices, suggests that companies must develop the right technology and market strategy to benefit from this changing market landscape. IDTechEx supports your decision making by assessing each market segment and each technology in great detail; and by providing detailed market forecasts, comprehensive technology and application assessment, and thorough business intelligence on key players.
The photovoltaic sector is a large target market for conductive paste. It however underwent a period of distress characterised by tumbling prices, bankruptcies and consolidation. This was triggered by the rapid expansion of production capacity in China and the simultaneous reduction of subsidies in Europe. In the same period however, other markets such as the touch screen and the automotive (with conductive inks/paste) sectors experienced continued growth while many others remained at a nascent or emerging state. In the background to all this, the financial crisis impacted the price of raw silver (the dominant technology), causing it to increase by 4.5 times between 2009 and 2012. These trends had huge implications for the market, strongly affecting the demand and changing its composition, while generating a global wave of interest in alternatives.
To Download Full Report With TOC: http://www.marketresearchreports.biz/sample/sample/192721
IDTechEx fully characterises the market dynamics for each application. It finds that the photovoltaic sector will recover, registering growth. However, various plating technologies will steal market share away from silver flake paste, adversely affecting demand. Inkjet printable inks will also slowly penetrate this sector as silicon wafers thin requiring non-contact printing. The underlying incentive for uptake will however remain weak here given the low spot prices of silicon ingots, limiting growth. The touch market will continue its growth, particularly because touch capability will penetrate the notebook and monitor markets too. This will represent a growing addressable target market segment, although sputtering will continue to present stiff competition to printed bezels or edge electrodes. The metal mesh transparent conductive film technology (fine metallic grid) will also take market share away from ITO, particularly in large-area devices where a low sheet resistance really matters. This translates into demand for silver nanoparticles as fine lines (<5um) are required.
The automotive market will grow in prominence too, particularly as the interior products such as seat heaters, overhead consoles, etc adopt printed conductive pastes and inks. Here, the market will value long term reliability therefore price will be less of a differentiator in commoditised paste markets. The sensor market, particularly glucose sensors, will also grow fast, although there is large market uncertainly thanks to cost pressures applied by the US government and also due to a changing regularity framework. Printed logic and memory will remain at a nascent or R&D stage, contributing little to overall market figures, while smart packaging and RFID antennas will grow in units, but consumption per item will remain intrinsically small.
Table of Contents
1. EXECUTIVE SUMMARY
1.1. Overview - Market Forecasts 2014-2024
1.2. Technologies
1.3. Markets
1.3.1. Photovoltaic Market
1.3.2. Touch Screen Market
1.3.3. Other Markets
1.4. Players
2. PRINTABLE CONDUCTIVE INKS- A SURVEY
2.1. Silver Flakes
2.1.1. Conductivity
2.1.2. Printing Technique
2.1.3. Cost
2.1.4. Target Markets
2.1.5. Summary (SWOT)
2.1.6. Players
2.2. Nanoparticle Silver Ink
2.2.1. High Conductivity
2.2.2. Reduced Sintering Temperature
To Read Complete Report With TOC: http://www.marketresearchreports.biz/analysis/192721
3. CONDUCTIVE INKS IN PHOTOVOLTAICS
3.1. The Big Picture
3.2. Many Different Photovoltaic Technologies
3.3. Big Numbers are Involved
3.4. Crystalline Silicon
3.5. Printed Conductive Tracks
3.6. Material Set
3.7. Market Shares for Conductive Inks
3.8. Market Value
4. TOUCH SCREEN
4.1. The Big Picture
4.2. The Market Value
5. ITO REPLACEMENT
5.1. Market Value
6. CONDUCTIVE INKS IN RFID
6.1. The Big Picture
6.2. Material Options and Market Shares
6.3. Market Value
7. CONDUCTIVE INKS IN VEHICLES
Latest Reports:
Pharmacovigilance Market [Clinical Trial Phases (Pre-Clinical Studies, Phase I, Phase II, Phase III, Phase IV Or Post-Marketing Surveillance) And Service Providers (In-House And Contract Outsourcing] - Global Industry Analysis, Size, Share, Growth, Trends And Forecast, 2013 - 2019
http://www.marketresearchreports.biz/analysis-details/pharmacovigilance-market-global-industry-analysis-size-share-growth-trends-and-forecast-2013-2019
A rising tide of regulatory expectations, tougher inspection regime and instant need of patient reporting has provided the much needed impetus for the growth of the pharmacovigilance market. An upsurge in number of acute and chronic diseases has consequently led to a rise in number of drug consumption, which has also elicited a growth in the number of adverse drug events and drug toxicity cases. Moreover, several high-profile safety issues, regulatory warnings, large volume of events to be reviewed along with negative media coverage have compelled the pharmaceutical players to take support of various outsourcing services. There are two major outsourcing services opted by these pharmaceutical players i.e. traditional CROs and BPOs. These outsourcing services not only provide cost savings but also helps in bringing process efficiency. Pharmaceutical companies are now forming long term partnership with the CROs and BPOs to share the costs involved in PV process right from drug discovery to post marketing approvals. In addition, PV requires skilled resources with excellent language skills and strong knowledge pertaining to case reporting.
To Download Full Report With TOC: http://www.marketresearchreports.biz/sample/sample/180425
The research report on pharmacovigilance provides detailed analysis of the global market and helps in understanding the driving forces responsible for the growth of this market. The report discusses the market of pharmacovigilance market on the bases of clinical trials phases i.e. Phase I to III and post marketing surveillance (PMS). We have also mapped the trend for preference of the pharmaceutical players for in-house and outsourcing in our chapter by type of service.
Telecom Managed Services Market 2014 - 2019
http://www.marketresearchreports.biz/analysis-details/telecom-managed-services-market-2014-2019
Telecom operators are under persistent pressure to manage capital expenditures related with network deployment and to reduce network operating costs. Managed services providers help network operators realize those goals. The next stage in evolution is to outsource value-added services including content, commerce, and next generation communication services. This is a key development as network operators are poised to lose revenue and margins both do to marginalization of bearer services (voice and data both) and the need for value-added service (VAS) applications.
We continue to see top players such as Ericsson, Huawei, and Nokia Siemens Networks dominate the market and remain committed to provide managed services. However, their dominance is threatened by disintermediating technologies such as Network Function Virtualization (NFV) and Software Defined Networks (SDN). At the same time, NFV and SDN are both excellent opportunities for managed service providers to solidify their roles with network operators.
To Download Full Report With TOC: http://www.marketresearchreports.biz/sample/sample/191706
This research provides insights into the current and future state of telecom managed services with a view into the anticipated marketplace through 2019. This report provides the reader with an understanding of the telecom managed service market landscape including market direction, core deliverables, significant players, cloud computing trends for managed service, key technologies, cost-benefit advantages over self-managed solutions, and market positioning.
Reports include, but are not limited to, the following choices:
LTE Strategy, Application Roadmap, and Future of 4G
Carrier LTE Application Strategies to Combat OTT Players and Services
Global Broadband Traffic Management: Business Case, Market Analysis, Roadmap, and Forecast
Content Delivery Networks (CDN) Analysis of Key Vendors, State of the Market, and Outlook 2014 - 2019
Target Audience:
Datacenter companies
Cloud hosting companies
Telecom network operators
Managed services providers
Application developers and ASP
About Us
Marketresearchreports.biz is the most comprehensive collection of market research reports. Marketresearchreports.biz services are especially designed to save time and money of our clients. We are a one stop solution for all your research needs, our main offerings are syndicated research reports, custom research, subscription access and consulting services. We serve all sizes and types of companies spanning across various industries.
Contact US:
Office: United States
State Tower
90 State Street, Suite 700
Albany, NY 12207
Tel: +1-518-618-1030
E: sales(at)marketresearchreports(dot)biz
Web: http://www.marketresearchreports.biz/